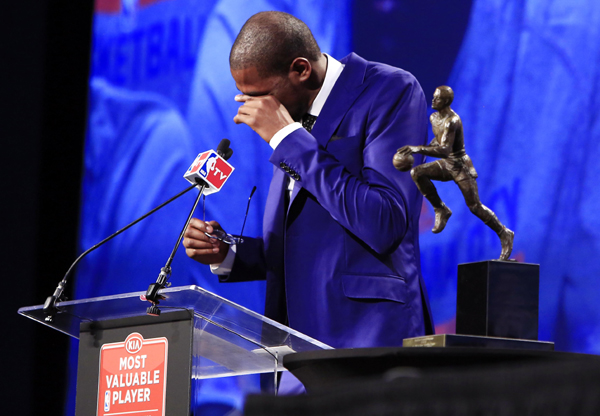 Oklahoma City Thunder forward Kevin Durant wipes a tear away after receiving the 2013-2014 MVP trophy at Thunder Events Center, Oklahoma City, May 6, 2014. [Photo/Agencies]
NEW YORK, May 6, 2014 - Kevin Durant of the Oklahoma City Thunder is the winner of the Maurice Podoloff Trophy as the 2013-14 Kia NBA Most Valuable Player, the NBA announced today. It is the first MVP award for Durant, who captured his fourth scoring title in five seasons, joining Wilt Chamberlain, George Gervin and Michael Jordan as the only players to accomplish this feat. Despite teammate Russell Westbrook appearing in only 46 games, Durant guided the Thunder to the NBA's second-best record at 59-23.
Durant totaled 1,232 points, including 119 first-place votes, from a panel of 124 voters that consisted of sportswriters and broadcasters throughout the United States and Canada as well as an NBA.com MVP fan vote, making for 125 total ballots. For the fifth consecutive season, the NBA and Kia Motors America gave fans the opportunity to submit their votes by ranking their top five choices through a dedicated Web page on NBA.com. The fan vote counted as one vote and was compiled with the 124 media votes to determine the winner. Players were awarded 10 points for each first-place vote, seven points for each second-place vote, five for each third-place vote, three for each fourth-place vote and one for each fifth-place vote received.
Rounding out the top five in voting are Miami's LeBron James (891 points, six first-place votes), the Los Angeles Clippers' Blake Griffin (434 points), the Chicago Bulls' Joakim Noah (322 points), and the Houston Rockets' James Harden (85 points).
Durant averaged a career-best 32.0 points to go with 7.4 rebounds and 5.5 assists, also a career high. In capturing his fourth scoring title, he joined Jordan (10), Chamberlain (seven), Gervin (four), and Allen Iverson (four) as the only players in league annals to win at least four scoring titles. He shot .503 from the field, .391 from three-point range, and .873 from the free throw line, leading all players in free throws made (703) and attempted (805). Durant authored two 50-point games, topped the 40-point mark on 14 occasions, and turned in 17 games with at least 30 points and 10 rebounds.
Durant's consistency was highlighted by his streak of 41 consecutive games scoring at least 25 points, which ran from Jan. 7 through April 6, and was the longest streak since Michael Jordan did it in 40 straight games during the 1986-87 season. It's the third-longest streak (single season) in NBA history, behind Wilt Chamberlain, who did it in all 80 games during the 1961-62 season, and Oscar Robertson, who went for 25-plus in 46 straight games during the 1963-64 season. Chamberlain did it for 106 straight games over the course of the 1961-62 and 1962-63 seasons.
The winner of four Kia NBA Player of the Month honors in 2013-14 (October-November, December, January and March), Durant was also named Player of the Week six times (Dec 2, Dec 30, Jan 20, Jan 27, Feb 10 and March 24).
The NBA MVP trophy is named in honor of the late Maurice Podoloff, the first commissioner of the NBA who served from 1946 until his retirement in 1963.