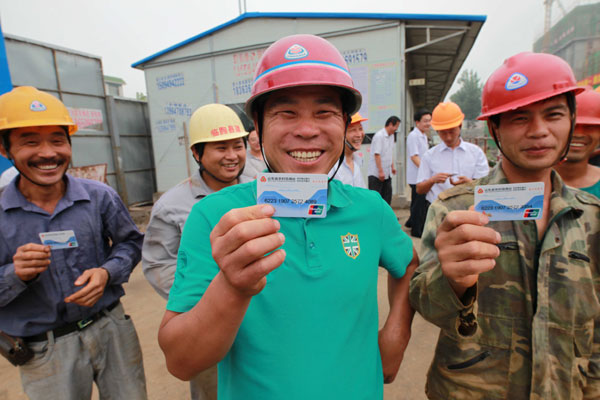 More than 3,000 migrant workers receive pay cards from their employers in Weifang, Shandong province, a measure to ensure that they are paid on time. With average monthly wages up 16.5 percent yearonyear in the first two months, grass-roots workers' pay is still far below the average. Sun Shubao / Xinhua
The monthly income of people working in middle or grass-roots positions in China's cities stood at 3,033 yuan ($530) on average at the beginning of the year, up 16.5 percent year-on-year. It's still far below the average wages being earned in first-and second-tier cities, according to a survey by Ganji.com, an online platform for classified ads, and the Market Research and Media Center of Peking University.
The survey was conducted in four weeks during January and February, and covered 36 cities, including
Beijing
, Shanghai and Guangzhou. It polled than 270,000 respondents. People earning between 2,001 and 3,000 yuan a month constituted the biggest share-30 percent-while 19 percent of them earned below 1,000 yuan.
As the cost of living in urban areas has risen over the years, the demand for a corresponding increase in salaries has become a major reason for job-hopping in this group. Meanwhile, 40 percent of respondents said they don't think there will be any pay raises this year.
Of those surveyed, 81 percent of respondents said they plan to change jobs to make more money.
In cities where the survey was conducted, Shanghai ranked as the city where people at the middle and grass-roots level earn the highest monthly wage on average-3,739 yuan. It was followed by Suzhou, in Jiangsu province, Shenzhen and Beijing.
But when it comes to year-end bonuses, Suzhou topped the list with an average figure of 1,807 yuan. It was followed by Shanghai, Hangzhou, Changsha, in Hunan province, and Beijing, where the average year-end bonuses exceed 1,500 yuan, according to the survey.
Out of all the cities, the average year-end bonus is 1,201 yuan, which increased 34 percent this year from the average 899 yuan reported in the 2013 survey. About 36 percent of respondents failed to get a year-end bonus, and among the rest, 31 percent got less than 500 yuan.
"Income growth, especially in the service industry, can be expected, but in a stable way instead of rapidly," said Liu Bingquan, an official with the China Association for Labor Studies.