In a step forward for the integration of the transportation systems between Beijing, Tianjin and Hebei province, Tianjin Binhai International Airport began operating a ticket counter at the Beijing South Railway Station on Thursday.
Passengers in Beijing are now able to not only buy flight tickets at the Beijing railway station, but check in for their flights. They then take a free, 33-minute ride on a bullet train to Tianjin Railway Station. From there, they take a free, 30-minute bus ride to the Tianjin airport.
By 2016, a high-speed rail line from Beijing to Tianjin Binhai International Airport will be completed, cutting down on the transit time for passengers in Beijing. Upon completion, travelers will take a 45-minute train ride from Beijing South Railway Station to the Tianjin airport.
"It helps me save an hour's commute to choose Tianjin airport instead of the Beijing Capital International Airport," said Liu Weidong, a 25-year-old Beijing resident who lives in the capital's southern Daxing district. "The price for the flight ticket is cheaper, too."
Sun Yu, marketing manager for Tianjin Binhai International Airport, said the new system is expected to attract about 1.4 million passengers to Tianjin's airport this year.
"It is the first ticketing facility we have set up at a railway station," said Yan Xin, general manager of the Tianjin airport. "It is a new model to link the railway and the airline, building a faster and more convenient travel route for travelers."
Yan said the Tianjin airport has set up "terminals" in Tianjin Binhai New Area, Tianjin Railway Station, and in Cangzhou and Huanghua in Hebei province.
"It is an important action to help build an integrated transportation system between Beijing and Tianjin and it connects to more cities in Hebei province," said Li Guomin, deputy director of Tianjin Transportation and Port Authority.
The airport is planning to set up more terminals in cities in Hebei such as Baoding, Langfang, Qinhuangdao and Tangshan in the coming year.
Hsiao Shu-hwa, who is from Taiwan and works in Beijing, chose the new railway-to-airport line to catch a flight from Tianjin to Taipei on Thursday because it was the most convenient way for her to go back to her hometown near Taipei Songshan Airport.
According to the airport, all travel costs between Beijing and Tianjin will be subsidized by the government.
"The local government is focusing on speeding up the development of the Tianjin airport and integrating the Beijing-Tianjin-Hebei economic hub," Li said.
"We still have room to improve our service, such as offering the most convenient luggage transportation service and improve on-time performances," Sun said.
Zhang Min contributed to the story.
baowanxian@chinadaily.com.cn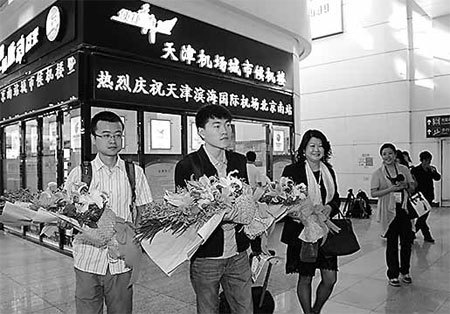 Passengers, who took a new transit line from Beijing South Railway Station to Tianjin airport on Thursday, are welcomed with flowers before they board their flights at the airport. Bao Wanxian / China Daily