Key project for 14,000-km network to connect Kunming with Myanmar
A major construction project for the ambitious Trans-Asian Railway Network is set to commence in China in June, according to a senior rail expert.
"The Gaoligong Mountain Rail Tunnel will be more than 30 kilometers long and will help link Yunnan province to Myanmar," said Wang Mengshu, a tunnel and railway expert at the Chinese Academy of Engineering, on Thursday.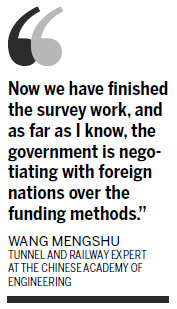 The National Development and Reform Commission approved the project, and engineers and worker representatives have come up with techniques to overcome geological complexities that could pose challenges, Wang said.
The tunnel will be the longest of its kind in Asia, with engineering difficulties equivalent to those found in the construction of rail lines on the permafrost in Tibet, he said.
"Another important project, the Nujiang River Rail Bridge, will also be launched soon," Wang added, noting that both the bridge and the tunnel are elements of the Dali-Ruili Railway, which will extend 330 kilometers to link China with its neighbor Myanmar.
Some sections of the railway suitable for high-speed operation will allow trains to run at 250 kilometers per hour. Other sections will hold speeds to a maximum of 180 kph, Wang said.
Wang has been one of the key planners for China's high-speed railway network.
Three rail lines that link China to Southeast Asian nations are included in the central government's medium- and long-term railway network plan, and some preliminary work has begun, according to sources close to China Railway Corp (formerly the Ministry of Railways).
Under the plan, the lines will start in Kunming, Yunnan province, and connect Laos, Vietnam, Cambodia, Myanmar, Thailand, Malaysia and Singapore. They constitute the southern part of the Trans-Asian Railway, which was initiated in the 1960s and began to take shape after 18 countries endorsed an agreement in November 2006.
The huge rail network aims to provide a continuous 14,000-km rail link between Singapore and Istanbul, with possible onward connections to Europe and Africa, according to the United Nations Economic and Social Commission for Asia and the Pacific.
While the blueprint for the three lines has been in the works for some time, survey and construction work has dragged on because of funding difficulties and disputes over speed-related issues.
"Now we have finished the survey work, and as far as I know, the government is negotiating with foreign nations over the funding methods," Wang said.
"They have reached a preliminary conclusion that China will be responsible for investing in infrastructure, equipment and technical research, while other countries will repay their share with local resources."
A railway expert at Beijing Jiaotong University who didn't want to be named said China should make sure it has enough money for such a massive project.
"China's railway sector is still being haunted by deep debts," the expert said. "Therefore, even with the government's support, it must persuade banks to lend a colossal amount of money."
zhaolei@chinadaily.com.cn