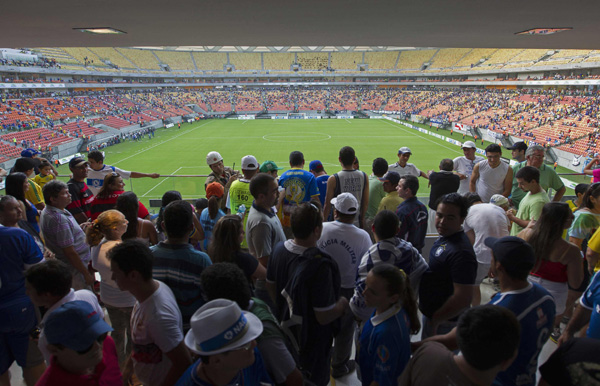 Fans arrive for the inauguration of the Arena Amazonia Vivaldo Lima soccer stadium in Manaus, March 9, 2014. [Photo/Agencies]
SAO PAULO - Labor officials are suspending work on part of the World Cup stadium where a worker died this weekend, creating a major headache for Brazilian organizers trying to get the site ready for the tournament's opening match on June 12.
Fast Engenharia, the construction company in charge of the stadium's temporary seats, said in a statement that it received notification from Sao Paulo state's labor secretariat late Monday that seat installation must halt until additional safety measures are implemented.
Fabio Hamilton da Cruz, 23, died when he fell about 26 feet (8 meters) while working on temporary seats Saturday at the Sao Paulo stadium. Authorities said an initial investigation showed he hadn't connected himself to a safety cable.
Fast Engenharia said the worker had all required safety equipment available to him.
According to the labor secretariat's website, officials said protective netting could have prevented the death even if the worker didn't use the safety cable.
``Company directors on Tuesday will analyze the technical demands made by (labor officials) and then will make an announcement about the case and its consequences to the construction timetable,'' Fast Engenharia said in its statement.
FIFA, world soccer's governing body, and the local World Cup organizing committee did not answer a request for comment Monday.
Construction was already behind schedule at Itaquerao stadium because of damage caused by a crane collapse that killed two workers in late November. A giant roofing structure fell on part of the stadium's facade, significantly pushing back the stadium's date of completion.
Itaquerao was one of the six stadiums not finished by the end of 2013 as requested by FIFA. Local organizers say it will be ready in April, but FIFA expects the venue to be completed in mid-May, just weeks before its first match.
Two other stadiums remain under construction for Brazil's first World Cup since 1950 _ one in the wetlands city of Cuiaba and one in the southern city of Curitiba. Infrastructure work across Brazil remains far from completed, but authorities insist the country will be ready for soccer's showcase event.
Seven workers have died in accidents at World Cup construction sites so far.