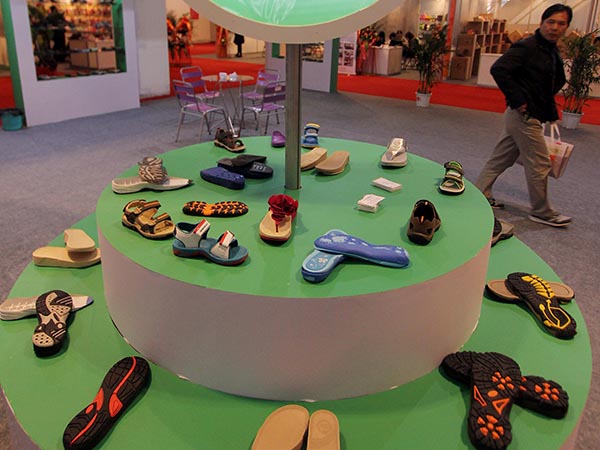 A visitor passes by a booth at a shoe expo held in Jinjiang, Fujian province, April 21, 2013. Jinjiang, widely known as China's footwear capital, is turning to e-commerce in hopes of turning around a slump marked by high inventory and closing stores. [Photo / Asianewsphoto] 
Jinjiang, widely known as China's footwear capital, is turning to e-commerce in hopes of turning around a slump marked by high inventory and closing stores, the city's mayor said.
Mayor Liu Wenru said the shoe industry has been consolidating and updating and that more than 70 percent of enterprises have built and are using their own websites for trade, especially in light of high rent and the cost of maintaining inventories at physical stores.
Last year, Internet transactions in the industry exceeded 38 billion yuan, the mayor said.
The city in Fujian province produces 20 percent of the world's sports shoes and 40 percent of domestic supplies. It will be hosting the 16th Jinjiang Footwear International Exhibition from April 18 to 21.
Last year, the Jinjiang footwear industry reported a gross production value of 88.5 billion yuan ($14.27 billion), up 6.6 percent over the previous year. Out of about 225 shoe manufacturers, more than 160 of them achieved a production value of 100 million yuan, 46 reached 500 million yuan, and 18 companies reached 1 billion yuan, said Liu.
Jinjiang is home to such nationally renowned brands such as Anta Sports Products Ltd, 361 Degrees International Ltd and Septwolves Co Ltd.
Industry leader Anta, which has seen improvements in revenue, gross profits and net profits, could become the first sportswear maker in the country to recover this year on a spate of new orders.
Multibrand strategy is considered one way to save the industry. Anta has developed brands including Anta Kids and Fila, and 361 Degrees has a child apparel brand that adds to its revenue stream.
But Zhang Qing, from Beijing Key Solution Sports Consulting Co Ltd, expressed concern for many of the footwear makers in the city. He said that, excluding Anta, most of the brands in Jinjiang are in decline.
"The transition for smaller brands and manufacturers will be painful," he said. "Many second- and third-tier brands will be phased out."
But companies with good positioning and strong products will survive, he said.
Sports footwear sales in terms of value growth were down from an average level of 10.5 percent between 2007 and 2012 to 4.6 percent between 2011 and 2012, according to a report released last May by Euromonitor International.
In 2012, domestic players represented by Li Ning Co Ltd, Anta (China) Co Ltd, 361 Degrees, International Ltd and Xtep International Holdings Ltd suffered from significant declines. High levels of warehouse stock were the biggest factor that negatively affected their performance.
After the 2008 Beijing Olympics, domestic companies collectively launched aggressive expansions in terms of retail outlets, product portfolios and marketing budgets, according to Euromonitor.
But by neglecting product design and technology innovation, domestic companies increasingly are facing the problem that most of their products are extremely similar to one other.