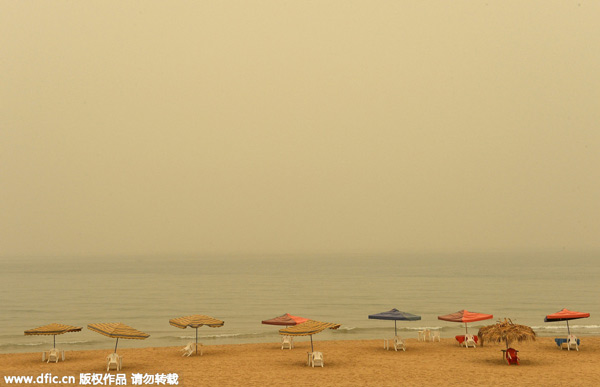 A view of a sea front during a sandstorm in Beirut, Lebanon, Sept, 8, 2015. A massive sandstorm has been sweeping through Lebanon causing low visibility. [Photo/IC]
BEIRUT - An unseasonal sandstorm has hit Lebanon and Syria, reducing visibility and sending dozens to hospitals with breathing difficulties.
The storm hit the coastal capital of Beirut on Tuesday, a day after it engulfed the eastern Bekaa Valley and neighboring Syria further to the east.
Officials advised people to stay indoors. The Lebanese state news agency says at least 80 people fainted or suffered breathing problems because of the fine dust. People have been warned against burning trash that has piled up on Beirut streets this summer, sparking a political crisis and protests.
In Syria, the storm reached the capital, Damascus. The pro-government Syrian Al-Watan newspaper says it forced the government to halt its airstrikes against rebel fighters north of the central province of Hama.