BERLIN - With 3-2 in Glasgow (goals by Thomas Mueller and Ilkay Guendogan) against Scotland, Germany's qualification for the Euro 2016 is virtually in the bag and German head coach Joachim Loew can dream of a new era.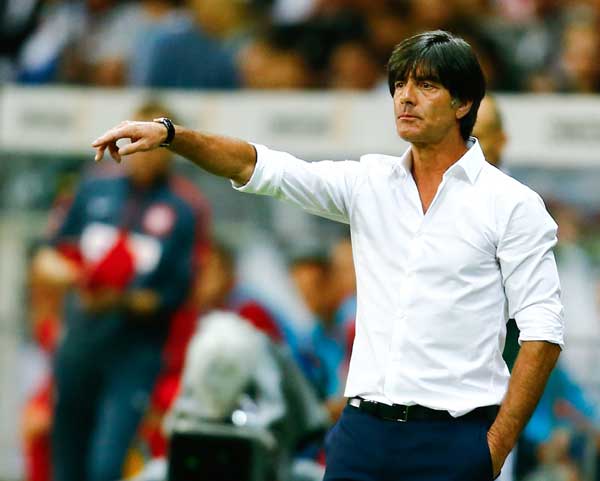 Germany's coach Joachim Loew reacts during their Euro 2016 qualification match against Poland in Frankfurt, Germany, September 4, 2015.  [Photo/Agencies]
Immediately after the 2014 World Cup in Brazil, the 55-year-old made a landmark decision for his future life as a coach. The first title after 18 years (1996 European Championship) should be added to his collection.
For the past year, football fans around the world have heard Loew talking about his dream "to shape an era". Soon after the final whistle in the World Cup final against Argentina (1-0), Loew was thinking how to move on and how to get his players motivated to want more.
Loew made his influence felt as he soon stopped talking about what he and his team had achieved but more about what lies ahead.
"My big wish is that we are capable of making sure the success is not a one-off. We want to shape an era," said Loew, hinting the team needs to stay hungry and forget about what we have achieved.
When Loew expresses his future goals by saying "we want to win that thing in Paris", he immediately allures to the 2018 World Cup in Russia, "we have to start to think about it now".
For a long time, Loew talked about how to overtake Spain, the 2008 and 2012 European Championship winners and World Cup winners in 2010. Only France has ever managed to win the European Championship (2000) on the back of a World Cup victory (1998).
In 1990 German "team boss" and football legend Franz Beckenbauer expressed overwhelming self-confidence by predicting his team "would be unbeatable for many years". But Germany then stumbled into the deepest crisis of its history.
Loew's approach is fundamentally different. The former striker has nothing against his team being "unbeatable", but insisted that "the time of making massive steps forward is over. We have to focus on little steps and modernize our game as quickly as possible".
One of Loew's favorite phrases is: "Standstill is a step backwards". Loew loves his scouts to come back from all over the world and report about new developments and solutions for different situations on the pitch.
And he is happy about his players responding with comments that make it obvious that the coach's message has penetrated their brains.
After eight of ten games, Germany is leading Group D with 19 points ahead of Poland on 17 and Ireland on 15.
Right before the qualifying match against Scotland, defender Jerome Boateng (Bayern Munich) sounded like Loew himself. "France is a big goal as we have shown the potential we have in our team. It's possible to shape an era like Spain. To succeed, we have to stay hungry and be aware that we have to improve," said Boateng.
"And we have to be careful of extremely motivated opponents wanting to beat the world champions. But that is something that will keep us on our toes," he added.
The key idea in Loew's plans is to be "unpredictable and dominant in our game", meaning his squad has to learn to be flexible like a rubber band. A three-man defensive wall in one moment and then a four man defense.
In addition Loew wants his team's game to be "elegant" and "strategic". Loew hates nothing more than football being a game that is basically reduced to a fighting spirit. Loew's thoughts are more in line with dominating the game with strategic intelligence and versatility. For hours Loew can talk about his "dream of perfect football".
Against Scotland on Monday, a man was in Loew's starting eleven that could well be the man for the future: Ilkay Guendogan (Borussia Dortmund), 24 and a highly versatile midfielder.
Of Turkish roots, Guendogan missed the 2014 World Cup with a back problem, he reported back for action at his club in October 2014. "He is a player with special skills we can't replace," said Loew. "He's vital for us."
Guendogan (13 games for Germany) plays a much more dynamic game than Mesut Oezil (Arsenal) and can be a threat with all other German midfielders like Bastian Schweinsteiger (Manchester United), Toni Kroos (Real Madrid), Sami Khedira (Juventus Turin) and Oezil himself again performing rather disappointingly against Scotland's bravehearts.
Guendogan can hit the back of the net like he did when scoring the winning goal against Scotland.
It was the first victory of Germany since 1993 in Scotland. "Ilkay is almost back at the level he was two years ago. He is quick and is outstandingly dynamic," says Loew. And when talking about 2016 in France and 2018 in Russia, Guendogan is always one of the players he mentions.
Guendogan seems to stand for a lot for what Loew is dreaming of. In addition to his tactical and technical skills, Guendogan is a battler. It is exactly how Loew loves to win games and titles: With a lot of work but always with a touch of elegance.
"I had a great time in the national team two, three years ago. I think I can give much more and maybe add something," said Guendogan.