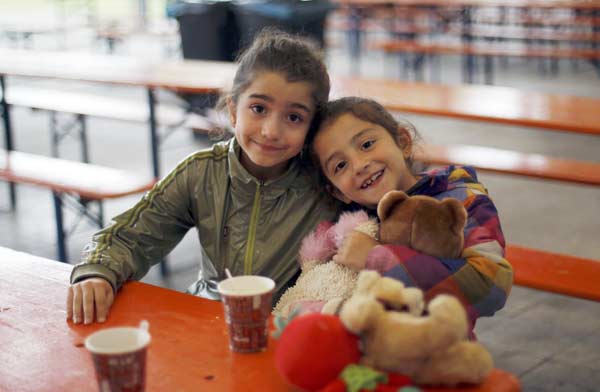 Girls from Syria pose at a refugee centre in Hamm, Germany, September 7, 2015. [Photo/Agencies]
STRASBOURG -- In a statement made on Monday, Anne Brasseur, president of the Parliamentary Assembly of the Council of Europe (PACE), said Europe should be able to manage high numbers of migrants.
"Yes, this is a significant number, but no, this is not an insurmountable figure for a continent as large and wealthy as Europe," the PACE president declared, referring to up to what she said was 300,000 refugees arriving and traveling through Europe.
"Europe is in the center of a migration and asylum cauldron," Brasseur continued, insisting: "Each day more and more ingredients are being added to this melting pot of human suffering, and Europe can no longer bury its head and humanity in the sand."
Brasseur was speaking upon her return from New York, where she addressed the 4th World Conference of Speakers of Parliament at the United Nations (UN) headquarters. She also met with individual Parliamentary Speakers, senior UN officials and officials from international non-governmental organizations.
During her address, she warned fellow leaders that if they didn' t start working together on the refugee issue, they would be "sleepwalking to disaster."
"I was met with polite incredulity at the lack of an organized European response," the PACE president explained.
Brasseur also noted that, according to the Speaker of the Jordanian Parliament, the Kingdom of Jordan was currently hosting 600,000 refugees. She offered the information as a point of comparison, asking who should be more proud, Europe or Jordan, considering that the latter is only slightly larger in land area than Austria.
The PACE general assembly will meet later this month starting on Sept. 28. Several debates will surround the migrant crisis, including discussions on the need to reform the Dublin Regulations which set out rules for registering refugees and asylum seekers in the European Union (EU).