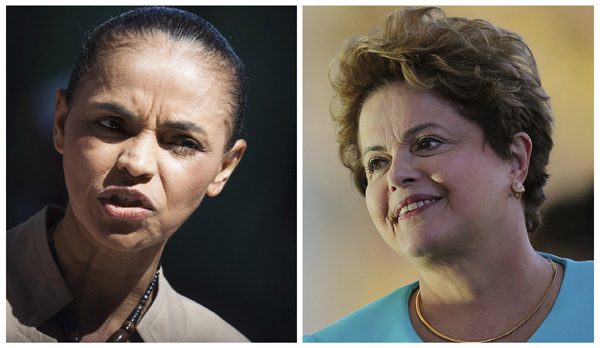 A combination picture of two file photos shows Brazil's presidential candidates Marina Silva (L) of the Brazilian Socialist Party (PSB) in Sao Paulo, and Dilma Rousseff (R) of the Workers' Party (PT) in Brasilia. [Photo/Agencies]
BRASILIA - Brazilian President Dilma Rousseff continued to maintain her lead over main rival Marina Silva with less than a month to go before the Oct 5 general elections, polls showed Wednesday.
Rousseff, who is running for reelection as the candidate of the Workers' Party, has 36 percent of support among the electorate, while Silva, of the Brazilian Socialist Party, has 28 percent, according to a survey by pollster Vox Populi.
The election is widely expected to end in a runoff between the pair later that month with polls projecting 42 percent of votes for Silva and 41 percent for Rousseff.
A third candidate, Aecio Neves, of the conservative Brazilian Christian Democratic Party, trails with 15 percent.
The Vox Popul poll showed 49 percent of those queried believed Rousseff would win the contest, while 31 percent said they vote for Silva and 8 percent for Neves.
The poll surveyed 2,000 people in 147 cities on Sept 8-9 and has a margin of error of 2.2 percentage points.