Perhaps its brand already has had an impact in the US and globally, but China's e-commerce giant Alibaba Group will certainly deepen it even further when it lists on the New York Stock Exchange (NYSE) - reportedly - sometime after Labor Day next month.
At $16 billion, this largest-ever initial public offering (IPO) in US history has drawn so much attention from investors and media, as well as its likely rivals, not only because of its scale, but also because it's a Chinese company that's poised to make history on an exchange in the world's No 1 economy.
"This is a major step for Alibaba because it forces the world financial community to evaluate the company and its business model," said Frank Lavin, a former US under-secretary of commerce for international trade and founder of Export Now, which helps companies sell online in China.
"There is no doubt that Alibaba's IPO on the New York Stock Exchange will help to amplify its brand recognition on a global scale," said Mark Otto, partner atJ Streicher and Coand a trader on the NYSE.
Along with the company's acquisition of stakes in US online retailers Fanatics Inc, ShopRunner Inc and Quixey Inc, a search engine for mobile apps, Alibaba's IPO will have an impact on both investors and competitors from both China and the US.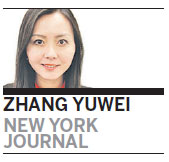 "Alibaba's IPO will certainly impact its competitors share price," said Otto. "Market reaction based on its valuation could result in Alibaba's stock siphoning off volume from its competitors."
"As the US markets have continued to set new all time highs, traders seeking yield have turned to China-based e-commerce stocks as an alternative investment, making them a hot item," said Otto.
Founded in 1999 in Hangzhou in East China's Zhejiang province, the privately-owned e-commerce firm Alibaba was, as of July, valued as high as $150 billion. Its efforts for tapping into the overseas market have made some $260 billion in online retail sales in the US last year, making it a rising competitor for US e-commerce firms such as Amazon.com.
With a population of 1.3 billion and a growing middle class, China is predicted to occupy 18.6 percent of global B2C (business-to-consumer) sales by the end of this year, and the number of online shoppers in China is predicted to jump from 193 million to more than 350 million by 2015, according toStatista, an online statistics portal. Alibaba captures about 80 percent of the e-commerce market in China.
Despite the potential in China's online market, the emerging e-commerce competition in China between companies that traditionally dominate e-commerce such as Alibaba and those that dominate search or social media such as Baidu is heating up.
"This IPO would give Alibaba a larger financial war chest and stronger international reach to use in this competition," said Lavin of Export Now, which works with Alibaba's online retail platform Tmall.
Still, many foreign investors are learning the Alibaba story for the first time, said Brendan Ahern, a managing director at Krane Shares, a US-based asset management firm.
"As investors learn the history of Alibaba's innovation, business execution and continued success, expectations around the company will rise," said Ahern.
Prior to the IPO, Alibaba has shown particular interest in start-ups in the US by forming a Silicon Valley-based team last year focusing on investment that strengthens its current e-commerce and digital businesses.
"This will allow Alibaba to develop market knowledge and to exploit gaps in the way the incumbents currently cover the market," said Lavin.
"It is smart - at least in these early days of overseas activity - to avoid direct competition with the local incumbents such as Amazon and eBay, and to focus on niche opportunities and elements of the e-commerce ecosystem," Lavin said. Filed in May and postponed from August to September, Alibaba's IPO has left Wall Street traders "eagerly" waiting, said Otto.
But after the bell-ringing moment on Wall Street, the history-making company will face two challenges as Lavin pointed out.
Alibaba needs to work to keep e-commerce growth in China on track because it remains the core driver of its revenue. It also needs to be able to demonstrate that its recent overseas movements - such as the launch of 11 main.com, its first foray into the US retail market - are performing as planned, said Lavin.
Contact the writer at yuweizhang@chinadailyusa.com.
(China Daily USA 08/27/2014 page2)