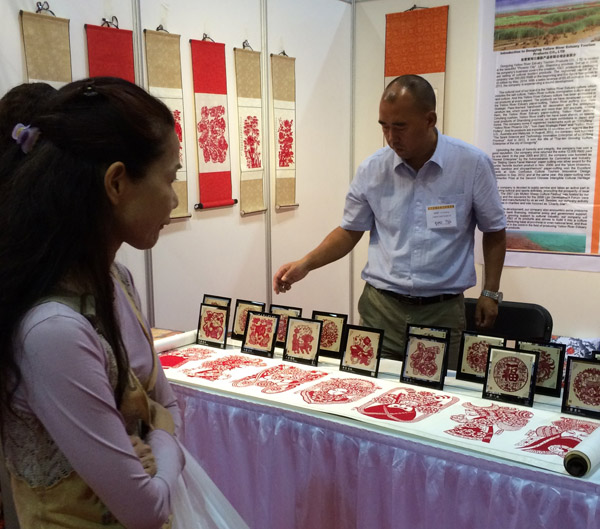 A visitor checks a booth which exhibits the paper-cutting arts and crafts at the Shandong (Confucius' Origin) Culture and Trade Expo which is held in San Mateo from Aug 30-31. The Shandong province sent a delegation of more than 30 small and medium-sized companies to the Bay Area to promote the cultural products and services, as well as test waters in the US market of the culture industry. [Chang Jun / China Daily]
Cultural cooperation and exchanges between China and the US will play an increasingly important role in facilitating better understanding and fostering friendship between people in the two counties.
The first thing on the to-do list for members of China's culture industry who want to tap into the US market should be to really understand the needs and wants of US audiences and adjust their works accordingly.
A good example of testing the waters was provided this weekend by the two-day Shandong (Confucius Origin) Culture and Trade Expo in the Bay Area. Shandong province, one of the most affluent areas of China, is best known as the "hometown of Confucius".
Lin Jianning, deputy-chief of Publicity Department for Shandong province, led a delegation of government officials and executives from more than 30 small- and medium-sized cultural companies to San Francisco.
"We didn't issue a government directive to form our delegation this time," said Lin, emphasizing the participation of companies was wholly voluntary. "The companies thought it was a good opportunity (to come to the US) and find out if their products and services catered to American tastes."

The composition of the delegation was well-rounded and comprehensive. Exhibitors covered a wide spectrum of cultural dimensions, including publishing, calligraphy, sculpture, textiles and dyeing, animation, TV and film.
"We only brought small- and medium-sized enterprises this time," said Lin, adding the government has many preferential policies and incentives in place in order to boost the continuous growth of the cultural industry in Shandong.
Shandong is blessed with a rich legacy and cultural heritage, such as Confucius and his sayings and philosophy, said Lin, adding that Shandong being the birthplace of Confucius has given the province an edge. "Who else can call themselves 'Confucius Origin'?" he said.
The massive amount of cultural resources only means we are culturally rich, said Wang Xiaojuan, one of the policy makers in Shandong Provincial Publicity Department. "We are now striving to transform into being culturally strong, and we have been on a fast track in recent years," she added.
In a January speech, Chinese President Xi Jinping vowed to promote the nation's cultural soft power by disseminating modern Chinese values and manifesting the charm of Chinese culture to the world.
China should be portrayed as a civilized country featuring a rich history, ethnic unity and cultural diversity, and as an Oriental power with good government, a developed economy, cultural prosperity, national unity and beautiful mountains and rivers, Xi said.
"The stories of China should be well told, the voices of China well spread, and the characteristics of China well explained," Xi said.
To build a solid foundation for the nation's cultural soft power, China needs to deepen the reform in its cultural system, promote socialist core values and promote the culture industry, Xi said.
Shortly after Xi's speech in January, China's State Council released concrete plans to foster new growth in the economy and strengthen cultural soft power, followed by local governments at different levels.
Although Chinese culture is a precious and profound treasure of mankind and there is no shortage of enthusiasm and admiration for Chinese culture from the West, industry insiders and policy-makers need to spend time understanding their foreign counterparts, to compare, to learn and to assimilate in order to grow roots and run deep, said Xiao Xiayong, cultural counselor at the Chinese Consulate General in San Francisco.
"For years, we've seen many cultural troupes from China visit the US, stage one or two performances, then leave," said Xiao, adding those kinds of so-called cultural exchanges bear no weight and are lifeless. "Their influences on foreign culture are marginal and minimal. That we have to change."
Creativity and new design can add cultural significance to traditional manufacturing and speed up industrial upgrading, said Xiao. "While it takes time to first make the soil for cultural industry fertile, the cause is noble," Xiao said.
Contact the writer at junechang@chinadailyusa.com.