It's easy to forget that a language barrier is a doubled-edged sword that can cut both ways.
Chinese, with its thousands of characters and four-toned, meaning-shifting phonetics is certainly daunting to Westerners, but English, with its irregular verbs and homophones, is no cakewalk to be sure, even for the most brilliant minds.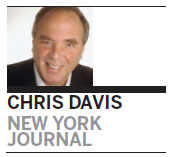 Case in point, Jiaqi Chu, 17, who arrived in Central Florida from China at age 14, was mainstreamed right into the ninth grade, excelled in all of his subjects, achieved a 3.6 grade-point average by senior year, cum-laude honors… and was not allowed to graduate.
Why? Something called the FCAT, or Florida Comprehensive Assessment Test, a state-mandated effort to improve educational standards by administering test in math and English that students must pass in order to advance.
"Jiaqi came to this country not really speaking any English," said Frank Reneke, his stepfather. "He did very well in school, very good grades all the way through. He was struggling as an English as a Second Language (ESL) student, as any child would do, with the reading and writing part of the FCAT, irregardless of the fact that he was actually getting As in the English classes he was being taught."
Reneke, who is married to Jiaqi's mother and can't speak Chinese, has watched what she and her son have had to go through. "They have to translate everything from English into Chinese, understand it and work out the answer, and then translate it back into English. And that just takes a lot of time," he said.
Jiaqi took the test every year for two years, always ending just shy of the finish line, most recently missing by one point (244 with a passing score of 245). "We were confident that Jiaqi was going to pass, we had never even considered that he wasn't going to pass."
Just days before they learned that Jiaqi had not passed, he had been the commencement speaker at the school board meeting on May 6 for all Seminole County, led the invocation, stood up in the auditorium and told his story of coming from China and everything that he had done.
"He really was paraded out in front of Seminole County as the greatest ESL student they had ever produced," Reneke said, "someone who was going to do very, very well,"
A week later they found out that he didn't pass. "The frustrating thing for us is that it is a state statute," Reneke said. He talked to the principal, who was not helpful. He talked to the superintendent, and they couldn't do anything. He went to the Florida Board of Education and they were unwilling to get involved.
Jiaqi did not get to participate in his high school graduation and is now in a limbo where he's out of high school and can't go back, and not quite in college, although he is being allowed to take some English classes at Seminole State College, with the anticipation that he'll either get a GED or that he will pass the FCAT when he takes it again in October.
Reneke went to their state senator David Simmons who agreed to try to help by writing legislation that would modify the state statutes to give school boards more flexibility in awarding diplomas to ESL students who have failed FCAT but can demonstrate in other ways that they are worthy of graduation.
"If they're willing to work hard and tackle college and overcome the language challenges, who are we to tell them no?" Simmons told the Orlando Sentinel.
"Four years ago, I couldn't speak a word of English," said Jiaqi. "Four years later, I earned cum laude. That shows I can do the work."
"That test was never intended for English-as-a-Second-Language students," Reneke said. "It was intended for native speakers who have been here their whole life."
The test does accommodate ESL students by giving them more time. They do not allow the use of an electronic dictionary, but they do supply a dictionary.
"Jiaqi was given a traditional Chinese dictionary," Reneke said. "But a child today coming from China does not read traditional Chinese, they read simplified Chinese. The people that ran the ESOL program in Seminole Country didn't even know there was a difference." So it did Jiaqi no good.
One point off passing, Reneke said, is less than the standard of error of the test, "which is pretty frustrating."
He said the Florida Standards Committee every year has also raised the passing limit by five points or so. "If Jiaqi had been in the cohort before him he would have had a passing grade," Reneke said.
Reneke, who is an IT consultant, did an independent analysis of public statistics and found that the average GPA of a student that passes the FCAT was 3.0, and Jiaqi had a 3.6. "It should have been a no-brainer," Reneke said.
Jiaqi did go to the cum laude graduation ceremony and received a plaque and because of his grades got some scholarship money he is using for his English classes at Seminole State.
"The whole thing is just ridiculous that they won't give him his diploma and make him go back and take this test," Reneke said. "Jackie wants to pursue a career in computer science. I'm thoroughly convinced that he'll go on to get a PhD in computer science some day. He's just very, very smart."
Contact the writer at chrisdavis@chinadailyusa.com.