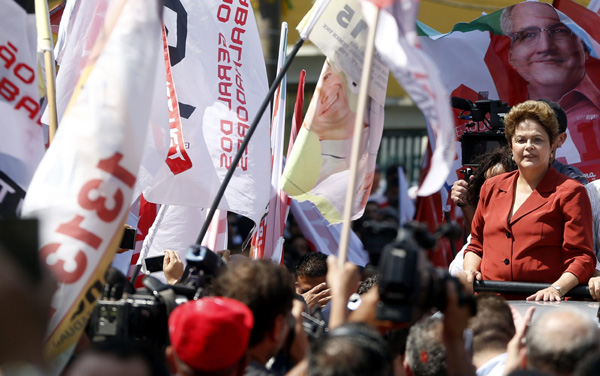 Brazil's President and Workers Party (PT) presidential candidate Dilma Rousseff attends a campaign rally in Sao Bernardo do Campo September 2, 2014. [Photo/Agencies]
RIO DE JANEIRO - A corruption scandal involving dozens of Brazilian politicians has shaken up presidential elections scheduled for October.
Paulo Roberto Costa, a former director of the Petrobras, the state-controlled oil giant, revealed information about the supposed corruption.
Several politicians including 25 representatives, six senators, three governors and a minister received bribes in Petrobras contracts, according to Costa.
All the politicians denied any involvement in the bribery revealed by Costa, a tainted witness recently arrested by the Brazilian Federal Police in an operation against corruption.
The opposition candidates commented the case on Monday.
Marina Silva, opposition candidate from the Socialist Party, said Rousseff takes political responsibility for any irregularities which might have occurred in Petrobras.
"The President has political responsibility, but I would not be so imprudent as to say she bears direct responsibility," she said.
Eduardo Campos, Silva's former running mate and Pernambuco state governor, is among those who allegedly received bribes.
Opposition candidate Aecio Neves demanded that all denouncements on irregularities at Petrobras investigated thoroughly.
But Rousseff defended her government,saying "I think this does not place the government under any suspicion, as nobody in the government has been officially accused of anything."