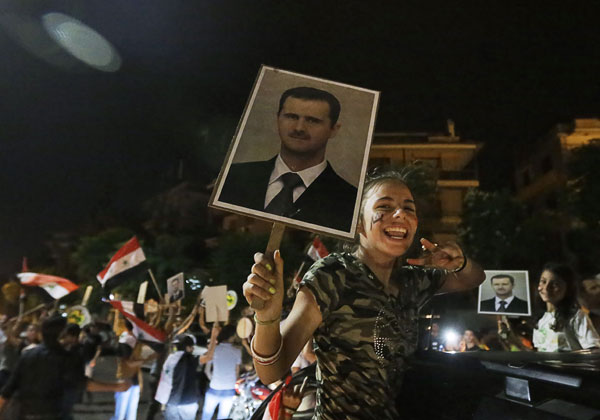 A girl holds a picture of re-elected Syrian President Bashar al-Assad as she celebrates in Damascus after Assad was announced as the winner of the presidential election. Joseph Eid / Agence France-Presse
Official figures show 88.7 percent support; crowds cheer and dance in Damascus
Syrian President Bashar al-Assad has secured a landslide victory in a wartime election that was condemned as a sham by his opponents but demonstrated his tenacious hold on power after three years of brutal civil war.
Parliamentary speaker Mohammad al-Laham said Assad secured 88.7 percent of votes cast in the election, which was held mainly in the central and western parts of the country, where his forces hold sway.
"I declare the victory of Dr Bashar Hafez al-Assad as president of the Syrian Arab Republic with an absolute majority of the votes cast in the election," Laham said in a televised address from his office in the Syrian parliament.
State television showed crowds cheering and dancing in Damascus, Qamishli in the Kurdish northeast of the country, the Druze city of Suweida in the south and the contested city of Aleppo in the north.
Lebanon's Al-Mayadeen television aired live footage from the government stronghold of Latakia and the war-ravaged city of Homs, which the government recaptured last month.
Voting was held only in government-controlled areas, excluding huge tracks of northern and eastern Syria that are in rebel hands. Tens of thousands of Syrians abroad voted last week, although many of the more than 2.7 million Syrian refugees across the region either abstained or were excluded by law.
Syria's constitutional court said earlier that turnout in Tuesday's election and a previous round of voting for Syrian expatriates and refugees stood at 73 percent.
Assad's foes have ridiculed the election, saying the two relatively unknown and state-approved challengers offered no real alternative to him. Former minister Hassan al-Nouri got 4.3 percent of the vote, while parliamentarian Maher Hajjar secured 3.2 percent, fewer than the number of spoiled ballots.
International response
In a statement, the European Union said, "These elections are illegitimate and undermine the political efforts to find a solution to this horrific conflict."
US Secretary of State John Kerry said during a brief visit to neighboring Lebanon that the elections were meaningless.
In Damascus, a delegation led by the government's chief international supporters said the election was transparent and free, and would pave the way for "stability and national agreement".
The delegation of officials from more than 30 countries, including Iran, Russia and Venezuela, toured polling stations on Tuesday.