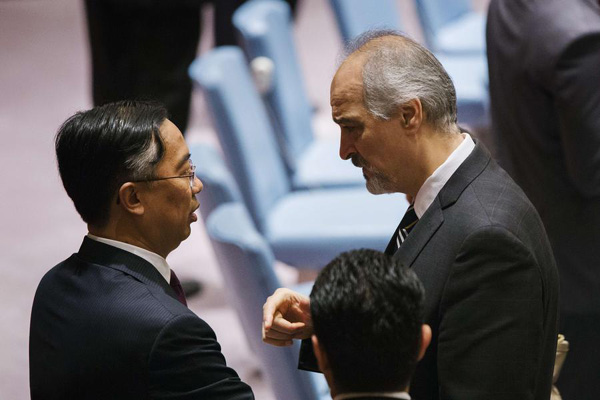 Syria's UN Ambassador Bashar Ja'afari (R) speaks to China's deputy UN Ambassador Wang Min during a meeting of the United Nations Security Council at the UN headquarters in New York May 22, 2014. [Photo/Agencies]
UNITED NATIONS - It will jeopardize the international efforts to push ahead with resolving the long-drawn Syrian crisis via political means if the issue of Syria is referred to the International Criminal Court (ICC) forcibly under current situation, said a Chinese envoy Thursday.
Wang Min, the deputy Chinese permanent representative to the United Nations, made the remarks after UN Security Council's meeting where Russia and China, two permanent members of the Council, vetoed a draft resolution intended to refer the Syrian civil war to the ICC Thursday morning.
"China believes that any action to seek recourse to ICC for prosecuting perpetrators of serious violations should be conducted based on the premise of respecting state judicial sovereignty and respecting the principle of complementary," Wang said.
Though the efforts to seek political settlement to the issue of Syria have encountered difficulties, the international community should be patient and firm with confidence, and stick to the overall direction of the political settlement, he said.
"What is most urgently needed now is to urge the government of Syria and opposition to immediately start a ceasefire and end violence so that the third round of the Geneva negotiations can be resumed to push forward the political process and start the political transition," Wang went on.
"Under the current circumstances," he stressed, "to forcibly refer the situation of Syria to the ICC is neither conducive to building trust among all the parties in Syria, or to the early resumption of the negotiations in Geneva, it will only jeopardize the efforts made by the international community to push forward the political settlement."
The envoy emphasized that at a time when there is "a serious divergence of views" concerning the draft resolution among all sides, the Council should continue to hold consultations, rather than simply push for a vote on the draft resolution, so as not to undermine the unity of the Council or obstruct the coordination and cooperation in dealing with problems such as Syrian crisis and other major issues.
The Chinese diplomat also reiterated China's position that all parties in Syria should respect human rights and international humanitarian law, and make every effort to prevent harming innocent civilians during the conflict.
"China is firmly opposed to all acts of violation of international humanitarian law or serious violations of human rights committed by all parties to the conflict in Syria," he said.