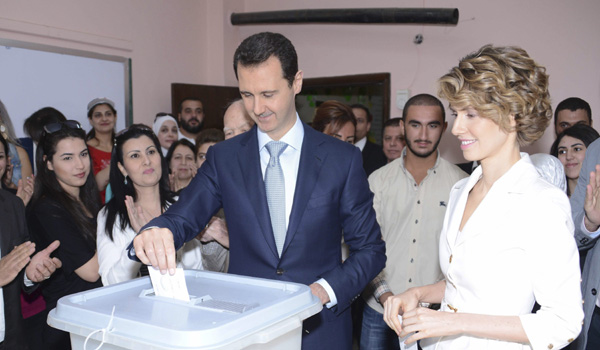 Syria's President Bashar al-Assad and his wife Asma cast their votes in the country's presidential elections at a polling station in Damascus June 3, 2014, in this handout released by Syria's national news agency SANA. [Photo/Agencies]
DAMASCUS - Syria's incumbent President Bashar al-Assad has won a third seven-year term in office in the presidential elections that took place on Tuesday, the Syrian Parliament announced on Wednesday.
According to a parliament speaker, 1,319,723 people voted for Assad, which made about 88.7 percent of the votes.
Earlier on Wednesday Syria's Supreme Constitutional Court said that 11,634,412 out of 15,845,575 eligible voters participated in the presidential elections, placing the turnout rate at 73.42 percent.
The general election started at 7:00 am local time (0400 GMT) on Tuesday and was previously scheduled to end at 7:00 pm local time (1600 GMT). But the Supreme Judicial Committee, which was tasked with overseeing the electoral process, later announced to extend the voting for another five hours until midnight on Tuesday, citing a "huge turnout."
It is the first multi-candidate presidential election in Syria' s modern history, which has been dismissed by the exiled opposition and their Western backers as "farce."