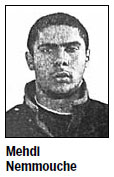 A suspected French jihadist who spent time in Syria has been arrested over the shooting deaths of three people at a Belgian Jewish museum, prosecutors said on Sunday, crystallizing fears that European radicals will parlay their experiences in Syria into terrorism back home.
When Mehdi Nemmouche was arrested in southern France on Friday, he was in possession of firearms, a large quantity of ammunition and a video claiming responsibility for the May 24 attack at the Jewish Museum in Brussels, a Belgian prosecutor said.
In a one-minute rampage that deeply shook Europe's Jewish community, a gunman opened fire at the Brussels museum. In addition to the fatalities, another person was gravely wounded.