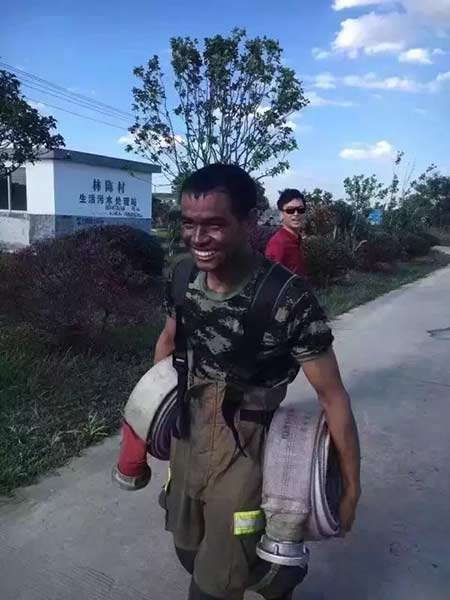 Zhang Xiaofang walks back to the truck carrying two fire hydrants after putting out the sixth fire on Monday. [Photo from Sina Weibo]
A picture of a smiling firefighter with face covered in soot and ash has gone viral on both Sina Weibo and WeChat and thumbed up by millions, reported zjol.com.cn on Wednesday.
The man in the uniform, who is carrying two rolled-up fire hydrants, has a big smile with his white teeth brightening up his face.
Reports said he was walking back to his truck on Monday after putting out the sixth fire on that scorching day.
According to zjol.com.cn, the man in the photo is Zhang Xiaofang, born in 1988, a firefighter working with Cangnan team in Wenzhou, Zhejiang province.
He has reportedly participated in over 1,000 tasks related to fires in past two years.
Internet users and many news outlets posted the image and it received enormous praise from users.
Many said it was moving to see that smile on a firefighter's face after grueling work. Some urged him to stay safe.