Village head holds marriage-like funeral, 18 take part in kissing competition, officials punished over travel junkets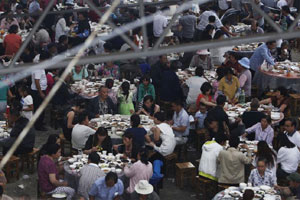 2,000 mourners, 400 dishes at funeral
More than 2,000 mourners were served 400 dishes by a village chief at the funeral of his father in Kunming, Yunnan province, on July 3. The son also reportedly offered to pay money to some guests.
But he has been cleared of accumulating wealth and abuse of public funds by the disciplinary inspection commission of Kunming's Guandu district.
Related: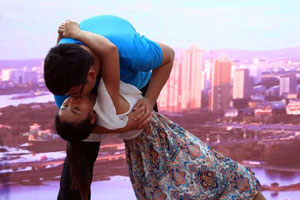 18 take part in kissing competition
Eighteen participants took part in a kissing contest in Jilin city, Northeast China's Jilin province, on July 5.
The game, which required contestants to strike different poses while kissing, was won by a couple who were awarded 500 yuan after the half an hour event.
Related:
Kissing contests smack of indecency

Officials shamed for travel junkets
China's disciplinary watchdog has named and shamed officials who spent public money on overseas travel, warning others to "learn the lessons" from these misdeeds.
In five separate cases, officials have been given punishments ranging from warnings to sackings.
According to the website of the Communist Party of China Central Commission for Discipline Inspection, these officials were working in different departments, including city education bureau, a college and an insurance company.
In the most severe case, Zheng Cuiqiong, president of No 1 Vocational Technical School of Nanning in Southwest China's Guangxi Zhuang autonomous region, and vice-president Tan Hanhuai have been dismissed from the party and administrative posts.
Related: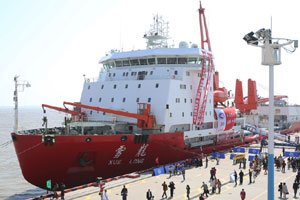 Icebreaker prepares for North Pole
China's icebreaker Xuelong (Snow Dragon) is all set to leave its Shanghai base next Friday to embark on the sixth expedition to the North Pole.
A total of 128 scientists and crew members, including six foreign experts and one from Taiwan, will take part in the 76-day trip, which will mostly focus on environmental research in the polar region, officials from the Polar Research Institute of China said Friday.
The team will set up eight short-term and one long-term observation stations on the sea ice of the Arctic Ocean. Team leader Qu Tanzhou said the mission aims to determine how El Nino and climate change might affect the polar region.
Related:
Chinese Xue Long Ice-breaking attempt unsuccessful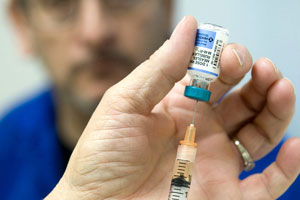 Vaccine system meets WHO standards
China's national vaccine supervision system has met or passed all the standard requirements of the World Health Organization, the agency announced Friday.
The WHO stipulates only countries with an approved national vaccine regulatory system can receive WHO accreditation.
Countries that make it through an initial assessment undergo a second inspection after three years.
China passed the initial WHO evaluation in March 2011 and passed the in October last year.
Related:
Chinese vaccine ready for global distribution