Wider and bigger parking spaces for women shoppers, Taobao starts selling 'Suarez corkscrews', infant dies after toll worker refuses to allow ambulance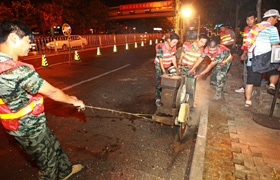 Beijing's Changan Avenue to get face-lift
Beijing's Changan Avenue will undergo some maintenance work from Thursday night until September 30, Beijing Times reported Friday.
Authorities said work includes refining the asphalt above a one-meter-thick explosion - proof layer above the Beijing Subway Line 1, which runs under Chang'an Avenue. The road directly before Tian'anmen gate and to the north of Tian'anmen Square, and passes important locations such as the Great Hall of the People, central government buildings and the National Museum.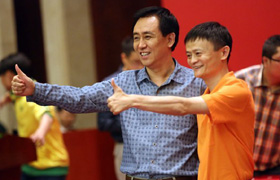 China's top soccer club to change name
Guangzhou Evergrande, China's top professional soccer club, will change its name to Guangzhou Evergrande Taobao, after Alibaba Group acquired 50 percent stock rights of it on June 5, Sports.sina.com.cn reported Thursday.
Taobao, China's largest consumer-to-consumer online marketplace, was founded by Alibaba.
Guangzhou Evergrande won AFC (Asian Football Confederation) Champions League against South Korea's FC Seoul on Nov 9, 2013.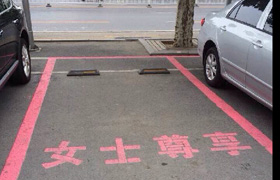 Chinese city offers female-only parking spaces
A shopping mall in Northeast China's Dalian city has rolled out wider and bigger parking spaces for their women customers.
The spaces, outlined in hot pink with a sign saying, "Women only," are located by the road and close to the mall's entrances.
Mall manager Yang Xiangdong said the move is meant to make parking easier for women shoppers.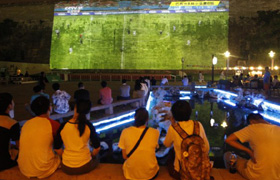 Love of soccer causes man to fall sick
A man in Guangzhou city of South China's Guangdong province, developed prostatitis after having a full bladder for four hours to watch World Cup match on June 25 night, Information Times reported Thursday.
The chief urinary physician at Sun Yat-sen Memorial Hospital affiliated to Sun Yat-sen University, Jiang Chun, said the numbers of patients with prostatitis has been increasing recently and nearly half of them are soccer fans who stay up at night to watch matches. Having a full bladder for a long period may cause prostatitis, and fans' smoking and drinking alcohol while watching games may cause congestion of prostate, he added.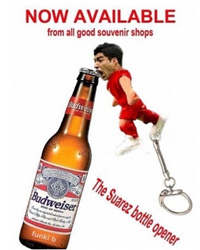 Taobao begins selling 'Suarez corkscrews'
Uruguay soccer star Luis Suarez's apparent biting during a recent World Cup game has inspired Chinese entrepreneurs to begin selling a range of corkscrews called the "Suarez Corkscrews" that are said to "open bottles nice and easy".
About 20 stores are selling the products on Taobao, a popular shopping site in China, though it's unknown who is manufacturing them.
An image of the Uruguayan's open mouth is used in the products' packaging. They cost between several hundred yuan and 10,000 yuan ($1,605).

Dog flung into air injures elderly woman
A 76-year-old woman in Chongqing's Banan district was seriously injured by a dog that was struck and flung into the air by a minivan, Chongqing Evening News reported. The woman went into a coma and was treated in a hospital's intensive care unit for several days. When she woke up, she couldn't remember her name. The dog, which is homeless, survived the accident.

Snake scales 10 floors to apartment
A 2-meter snake slithered into a 10th floor apartment in downtown Chengdu, Chengdu Commercial Daily reported. The apartment's owner, surnamed Wang, said she had just gotten out of bed when she saw the snake coiling under her couch. Two firefighters helped catch the reptile and will release it into the wild. An animal expert said the snake was a non-venomous species that is good at climbing.

Toll station worker refuses ambulance
A toll collector at a Yangtze River tunnel in Nanjing failed to open a toll gate promptly to allow an ambulance carrying a critically ill baby to pass on Tuesday morning. The ambulance was hurrying the 9-month-old infant to a hospital. It reached the toll station at 4:58 am but the collector, ignoring other drivers' requests, reportedly insisted that the gate would not open until 5 am. The ambulance reached the hospital at 5:10 am, but the baby died en route.