Photo showing two sitting on door windows of a moving cab goes viral. A 63-year-old man sues 22-year-old fiancée who won't marry him and a circumcision ends with the father cut from his government post.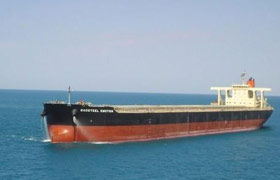 MOL ship released after $39 million ransom paid
A Chinese court said on Thursday that it has released a ship owned by Japanese shipping firm Mitsui OSK Lines Ltd, which had been seized in a contract dispute, after the Japanese firm paid the 40 million yen ($39 million) ransom.
China's Supreme Court said in a statement, carried on its official microblog, that the seizure order had been lifted as of 8:30 am (1:30 am BST) Thursday.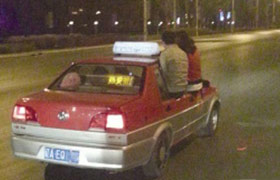 Daredevil passengers
A photo of a man and a woman sitting on the windows of a taxi and taking selfies in Shenyang went viral online, as Web users criticize that they are either stupid or drunk.
The driver said he was driving at 60 kilometers per hour when the woman sat on the window beside the front passenger seat and the man on the right window of the rear seats, and that the two daredevils seemed sober.

Desperate fiance
A 63-year-old man sued his 22-year-old girlfriend for refusing to marry him on the agreed date and allegedly cheating him of more than one million yuan ($ 160,300) in gifts and money, Hunan-based news website voc.com.cn reported.
On Jan 27, Zhang Fuhua, from Yongzhou city in Hunan province, and his girlfriend Xia Jing, signed a marital contract requiring the couple to get married before May 1, or else the women would return the 800,000 yuan and all the gifts that Zhang gave her when they were dating. The contract was signed at a police station and witnessed by police officers.

Circumcision corruption
A civil service official in Guyuan city of Ningxia Hui autonomous region who took gift money from colleges and subordinates by holding a circumcision celebration for his son has been removed from his post and ordered to return the money, xinhuanet.com reported Wednesday.
The region exposed six cases on Tuesday, including this one, that breached the eight-point anti-bureaucracy guidelines from the central government.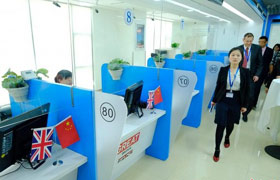 New British visa center opens for Chinese
Britain unveiled a new visa application center in Beijing on Wednesday, part of the largest-ever investment in its visa application center network in China.
The move comes amid heightened interest from Chinese tourists in visiting the United Kingdom. The Beijing center has doubled in size, increased its capacity, and the changes will reduce waiting times for customers.

Women hostages rescued by police
A man surnamed Wu was subdued after he held hostage two supermarket saleswomen in Shenzhen on Wednesday, police said. Another saleswoman was allegedly stabbed by Wu and sustained injuries. The case is being investigated.

Condom sale rule worries parents
A regulation on the sale of condoms in educational institutions has triggered debate among parents of children at middle schools in Xi'an, Shaanxi province, Huashang Daily reported on Wednesday. The city government has issued a document that urges universities, colleges and middle schools in the city to sell condoms on their campuses. Some parents are worried that the measure will be misunderstood.

Man suspected of theft to keep wife happy
A man surnamed Jiang from Dujiangyan, Sichuan province was arrested on suspicion of stealing and selling 21 cellphones to make money to please his wife. Jiang worked at an e-commerce company with a monthly salary of 7,000 yuan ($1,120). His wife asked him to give her 4,000 yuan each month. To keep up with her demands, Jiang allegedly stole the cellphones and then asked his friends to help sell them.