Taxi driver's 24-hour shift proves fatal, official alleged to hold eight fake identities and villager attends own 'unforgettable' funeral.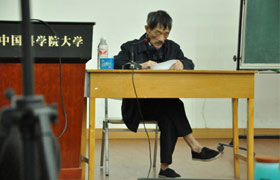 Slovenly academician
A photograph of an elderly academician from China's leading research institute delivering a report went viral online, as he was bearded, wearing shabby clothes and sitting in postures which do not suit his social status.
Li Xiaowen, 67, is an academician of the Chinese Academy of Sciences (CAS), former director of CAS's Institute of Remote Sensing Applications and is currently the chief scientist of China's 973 project on changing elements of the Earth's surface space-time quantitative remote sensing.



Taxi driver dies after 24-hour shift
Wang Xianwu died suddenly after working for 24 hours driving a taxi in an effort to help his son make a down payment on a house in Dongguan city, South China's Guangdong province on Sunday, Yangcheng Evening News reported.
Wang died while using the bathroom after his 24-hour non-stop shift. According to drivers who knew him, Wang had been working at least 12 hours a day for a while. Police are investigating whether he died through overwork.

Official exposed with eight ID cards
A post on Tianya.cn, a popular online community, exposed Fan Hongwei, vice head of Changzhi Municipal Public Security Bureau in Shanxi province, as illegally holding eight different identity cards. The post alleged Fan used the fake identities to transfer an illegal fortune. Local authorities have begun an investigation, the Beijing News reported.



Live villager attends own funeral
Villager Li Shugui of Xiakou county, Chongqing municipality has held his own funeral, sitting among mourners and watching proceedings, according to Chongqing Morning Post on Wednesday.
Li said he had thought about the unconventional idea for more than a year, as people usually can't experience their own funeral and he found it interesting to do so. He hired a professional funeral service to stage the ceremony. "The process of the funeral is a bit awkward but still unforgettable for me," he said.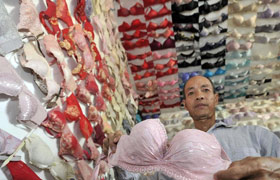 Man collects 5,000 bras in 20 years
A man in Sanya, Hainan province has collected some 5,000 bras over 20 years, China News Service reported on Tuesday.

Chen Qingzu hangs different types of bras on the walls and ceiling of his small home. He said he collected the bras from female students at more than 30 universities and colleges, but did not say how he obtained them.

Chen said his dream is to build a bra museum with his collection.

Reward issued to find missing soldier
An army unit has issued a wanted notice for a soldier lost in field training with his gun, offering 100,000 yuan ($16,000) to anyone who finds him or his weapon, which was not loaded, Oriental Morning Post reported. Chen Xin, 22, was serving in Hekou county, which borders Vietnam, when he disappeared during routine training on April 15.

Chengguan punished after family of 8 beaten
An urban patrol officer, or chengguan, has been removed from his position and four contracted chengguan workers were dismissed for beating residents, people.com reported on Tuesday.

On Sunday, a family of eight, while taking a walk, was beaten by more than 10 chengguan in Hefei. Chengguan authorities had considered the family members to be street scammers, the report said.

2 pregnant women held in airport heroin sweep
Two pregnant women found with heroin hidden in their bodies were arrested on Sunday at Xi'an Xianyang International Airport, Huashang Daily reported on Tuesday. The women were allegedly carrying 590 grams of heroin from Yunnan province to the Ningxia Hui autonomous region and were changing flights.