A professor is dismissed after appearing in a sex video, adults have 720 hours of quality time left with their aging parents, and a mother promises her son that she will stop pushing him to marry if he came home for Spring Festival.
Sex scandal
A professor was dismissed from his post as deputy chief of the Kunming Institute of Zoology of the Chinese Academy of Sciences after he appeared in a widely-circulated sex video.
Wang Wen is under investigation after an online video showed him naked with a woman in a hotel room, Southern Metropolis Daily reported.
Related: Party school official suspended after scandal

Sexy ad
A netizen called "pupil" wrote a letter to the mayor of Taizhou city in East China's Jiangsu province, claiming that a sexy ad from a local real estate project has disrupted his life.
In the letter, the netizen said he was a student at a local primary school, and he was obsessed by the ad, in which actress Lin Chi-ling's breast was exposed. The netizen said his performance in school suffered as a result of the ad.
The mayor replied to the letter on Jan 14, saying the ad had not violated any laws.

Time left with parents
Many people said they were moved by an online post that calculated the total time that an adult had left with his or her aging parents.
If there are 30 years left for the parents, and if an adult child goes home once a year and stays with the parents for five days each time, there would be 720 hours together after deducting the time for sleeping and social activities, according to the post.
Related: 407,000 bereaved parents receive government aid

Libel accusation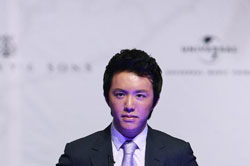 The agency for renowned pianist Li Yundi accused six netizens of libel spreading rumors on Wednesday.
Yundi Music said on its official micro blog that the netizens have long been defaming Li and concocting rumors about Li as well as his family members.
Li has not commented on the company's post as of Thursday morning.
Related: Ten influential online rumors of 2013

Rich woman accused
A wealthy woman who is the biggest shareholder of a listed company in Southwest China's Sichuan province was arrested on allegation of misusing funds.
He Yan, 53, who holds 51 percent of stock shares in GoldTel Group in Chengdu city, was arrested, Beijing News reported. The company makes components for China's Beidou navigation system.
Related: Website to reveal misuse of public funds

Mom's regret
A woman published a newspaper ad in Australia, saying that she will not push her son to marry anymore if he would come home for Spring Festival.
The woman said on the front page of a Chinese-language newspaper in Melbourne that her son stopped answering her calls since she kept urging him to marry.
Related: 'Leftover women' blamed for being too aggressive

Gay PhD punished
A PhD in Shanghai received five months in jail for group licentiousness with seven other men.
The men were caught by police in a hotel room in Xuhui district of Shanghai on Sept 7. They got acquainted through QQ, China's most popular online instant-message tool, Shanghai Morning Post reported.
Related: 21 caught in forced prostitution raid

Long trip home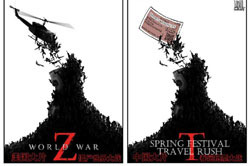 A teacher in Shenzhen city of South China's Guangdong province had to buy six railway tickets as well as a boat ticket, and she has to make transfers in eight cities to go back to her hometown during the travel peak before Spring Festival.
The teacher, surnamed Sun, said she planned to travel to her hometown in Shenyang city of Northeast China's Liaoning province, with her 7-year-old daughter, but they could not get an express ticket because the demand for railway tickets is far beyond the supply during the festival, Yangcheng Evening News reported.