Editor's note: For Internet users, to see is not necessarily to believe. The online information avalanche carries a number of rumors, including some that gain traction. Listed below are ten rumors that triggered public concern in 2013.
Rumor No 1: A woman accused a foreigner who helped her
On Dec 3, a photographer uploaded photos of a woman grabbing a foreigner on a Beijing street. The photographer, who didn't see the incident, wrote in the caption that the woman fell when the foreigner passed her on his motorbike and blamed him, according to the rumor, when he came back to help her.
Beijing police released a video clip the following day taken by a surveillance camera. It clearly showed that the man crashed into the woman, knocking her over at a pedestrian crosswalk in Chaoyang.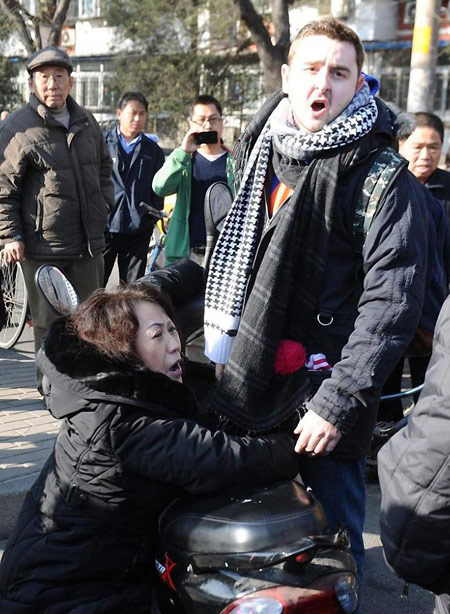 Related:
Beijing police deny foreigner blackmailed in motor accident
Rumor No 2: Residents stole flowers on display
China Central Television (CCTV) said in its official micro blog on Nov 28, with accompanying photos, that residents in Jinan, capital of East China's Shandong province, stole flowers from a horticultural exhibition.
Jinan police announced two hours later, that in actual fact, people in the photos were not local residents, but local government members of staff who were removing flowers that had died or were wilting.
Related:
One man's tragedy is another man's treasure hunt
Rumor No 3: HK baby girl trafficked by mainland gangsters
A woman in Hong Kong called police on Nov 23 and said that her 6-month-old baby girl was taken when she was helping a woman who asked for directions. She told the police that the woman spoke mandarin.
The police discovered that the baby had already died at home on Nov 17. Her mother put the girl's body in a dustbin and lied to the police saying that she was lost.
Rumor No 4: Official raped nearly half of a village's women
In early September, the South Reviews, a magazine run by the Guangzhou Daily Group, said in a report that a village official in Sanmenxia city of Central China's Henan province sexually assaulted a large number of women whose husbands worked elsewhere. The report quoted the village official as saying that more than half of the village's children were his.
The Henan Daily said on Sept 8 that the magazine had apologized for its report, and said the official was actually joking.
Rumor No 5: Influential micro-blogger detained for comments
In early August, Xue Biqun, better known online as Xu Manzi, was taken into police custody. Many netizens said that this was because of his constant criticism of the government on his micro blog.
The Beijing police announced on Aug 25 that Xue was buying sexual favors and he admitted that he had paid for sex with a 22-year-old woman.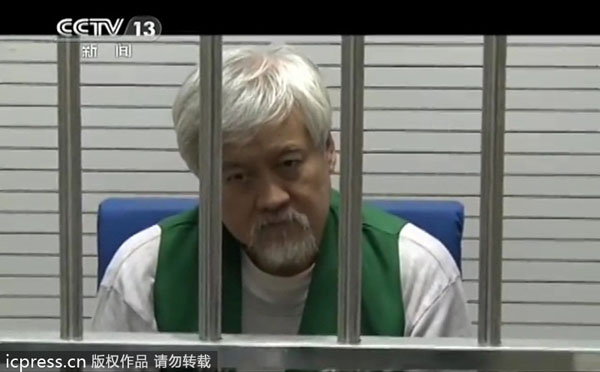 Related:
'Like an online king' - celebrity blogger Xue's story
Rumor No 6: A vendor was beaten to death by officials
On Aug 3, an online post said that a vendor was killed after being attacked by the chengguan (urban management) in Wuhan, Hubei province. The vendor's body was put on a tricycle and covered with a white shroud.
However, the "dead" vendor sat up to drink water in the afternoon. He said that he had played dead to get compensation for his friends.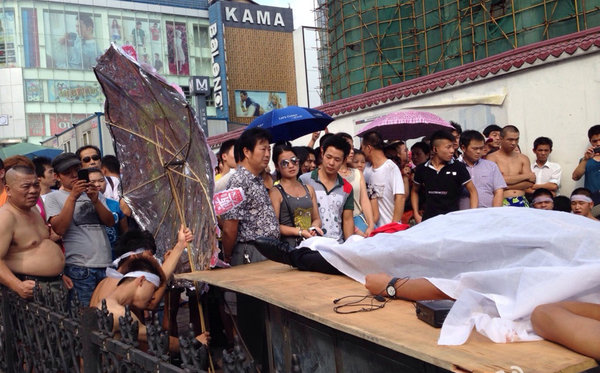 Related:
Extreme heat brings 'dead' man back to life
Rumor No 7: No passers-by offered a hand to a cleaner
On Aug 1, an online photo showed a little girl holding an umbrella to shield a cleaner who was lying on the ground in Guangzhou city.
However, it was not all it seemed. The woman said a day later that she had not collapsed, but was paid 150 yuan ($25) to lie o the ground by four unidentified men.
They told her they were taking photos for an umbrella advertisement, the New Express reported.
Rumor No 8: Baby girl died in incubator
"What killed a 12-day-old baby?" asked the Guangzhou Daily headline on July 8.
Apparently, a baby girl was burnt to death in an incubator at a hospital in Quanzhou, Fujian Province.
The local government announced on July 19 that the incubator was in perfect working order and the baby had died from an infection.
Rumor No 9: A woman was gang-raped, killed and thrown from a building
On May 7, an online post claimed that a woman, surnamed Yuan, was raped in a market in Beijing by five guards, who killed her and then threw her body from a building.
Beijing police announced on May 9 that the woman committed suicide by jumping from the building and this was backed up by surveillance footage and an autopsy.
Rumor No 10: A girl gave food to a street beggar
An online photo on March 25 became a hot topic.
It showed a teenage girl feeding an elderly beggar in Shenzhen city. The girl was immediately labeled "Shenzhen's most beautiful girl".
An Internet PR company admitted three days later that the image was concocted to promote a particular company.