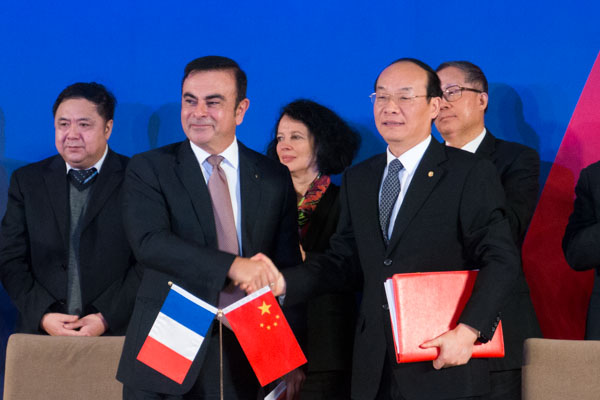 Dongfeng Motor Corp President Xu Ping (Right) and Renault S.A.S President and CEO Carlos Ghosn shakes hands after signing the joint venture contract on Dec 16, 2013 in Wuhan city, the capital of Hubei province. After eight years of talks, the two carmakers finally settled their Dongfeng Renault Automotive Co production base in Wuhan city. [Hao Yan/chinadaily.com.cn]
Chinese Dongfeng Motor Corp and French Renault S.A.S officially signed their 50-50 Dongfeng Renault joint venture agreement on Monday in Hubei province, and will construct the new plant in Wuhan to produce the latest Renault SUV.
Renault S.A.S President and CEO Carlos Ghosn said that "Dongfeng has been working with Nissan for years. With today's agreement, we are witnessing a unique alliance, an alliance with Chinese, French and Japanese companies that will work together."
Four billion yuan ($657.6 million) in fresh capital has been injected into the new Dongfeng Renault Automotive Company, said Dongfeng Motor's vice-president Liu Weidong at the ceremony.
The total investment of the joint venture company will be 7.76 billion yuan ($1.27 billion). The new company was established with a registered capital of 4.71 billion yuan, according to announcements from Dongfeng Motor Group Co Ltd on Dec 5. Dongfeng Motor Group Co Ltd is Dongfeng Motor Corp's Hong Kong listed arm.
Renault sales channel
The new company will leverage the current Renault imported car sales channels to sell local manufactured vehicles and provide services.
Ghosn said the company will expand the distribution network from the current 92 dealers to 120 by the start of production, that is, the first half of 2016.
The China-made vehicles may also be exported, subject to Renault S.A.S' approval, says the listed company's announcement.
Company governance
Jacques Daniel from Renault was appointed the president of the new Dongfeng Renault Automotive Co. He was appointed Renault senior vice-president, China joint venture project leader, in February.
The executive vice-president will be Hu Xindong from Dongfeng Motor, and he is Dongfeng Motor's head of legal and securities affairs department, according to earlier reports.
The chairman of the board will also come from Dongfeng Motor, according to the news release.
The new company will have eight board members – four from Dongfeng Motor and four from Renault. Directors shall each be appointed for a term of two years, and may serve consecutive terms, according to the listed company's announcement.
The news release said the chairman of the board appointed by Dongfeng Motor and the general manager appointed by Renault will serve an initial four-year term.
"Governance will be shared equally between the partners. We will train each other, help each other and work with each other as equals," said Ghosn.
Joint venture plant
The new joint venture plant will start production in the first half of 2016 in its 95-sq- km manufacturing, research and development base in the Wuhan Economic Development Zone. The new company planned to reach a localization rate above 85 percent, according to Ghosn.
"We are going to be very busy in the next two years starting a new plant with a new product, investing together 170 million euro ($234 million)," said Renault Asia-Pacific Chairman Gilles Normand.
The new plant in the first phase will realize an annual productivity of 150,000 engines and 150,000 vehicles, half of its planned productivity of 300,000 vehicles. The plant is also set to produce the self-developed Dongfeng brand models, and work on the new energy vehicles.
Dongfeng Renault will recruit 2,000 people initially to work at the new, said Normand.