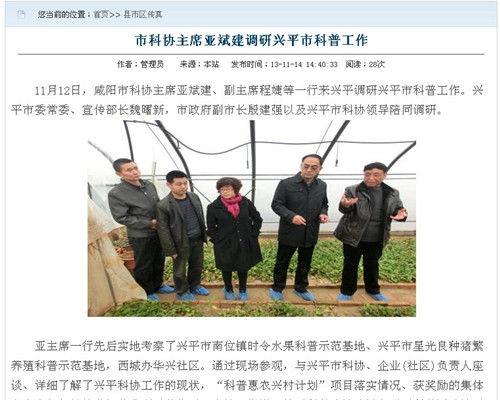 A screen grab from Xingping county's official website shows Xianyang city officials wearing shoe covers while visiting a farm in Xingping on Nov 14.
Officials in charge of the science and technology development in Xianyang city of Shaanxi province said they were wearing shoe covers on request during an inspection to a local county, People.com.cn reported Friday.
On Nov 15, a Sina Weibo user posted a picture of the officials inspecting a farm in Xingping county wearing shoe covers, causing users to question whether they were protecting themselves from dirt. The involved department responded that they visited a laboratory before going to the farm. The laboratory required them to wear shoe covers, and they didn't take them off afterwards, in a public notice.