'Brother Watch' pleads guilty to corruption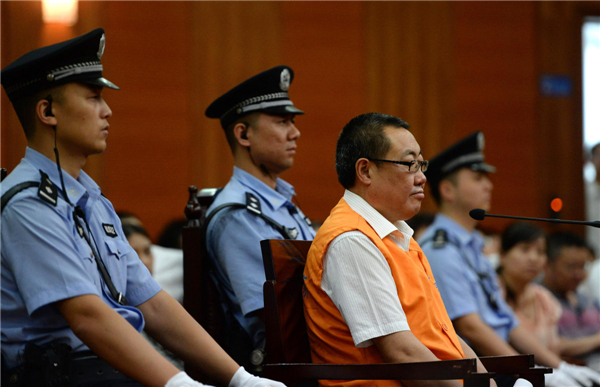 Yang Dacai, former head of the Shaanxi provincial work safety administration, stands bribery trial at Xi'an City Intermediate People's Court, Aug 30, Northwest China's Shaanxi province. [Photo/Xinhua]
A former official of Shaanxi province, who drew public outrage last summer after a news photo showed him smiling at the site of a deadly highway crash and for his collection of luxury watches, pleaded guilty to corruption charges on Friday in Xi'an.
Dubbed "Brother Watch" by Chinese netizens, Yang Dacai, 56, is on trial for bribery and holding unexplained properties worth 5.04 million yuan ($820,000). He is the former director of the Shaanxi provincial work safety administration.
At Xi'an Intermediate People's Court, Yang, with hundreds of local officials, local residents and media in attendance, said that he had no objections to the charges and confessed to accepting bribes.
The prosecution presented evidence that from May 2011 to March 2012, Yang, as director of the work safety administration, helped a company obtain a business qualification permit and received 250,000 yuan from the company.
Officials from the company testified in court on Friday to verify the evidence. Yang himself confessed that he received the money in his office.
The prosecution pointed out that property belonging to Yang and his family is estimated at 11.77 million yuan, of which 5.04 million yuan in property could not be explained. Prosecutors also said Yang's wife and son made 11.15 million yuan in separate investments.
Yang said the 5.04 million yuan came in the form of numerous money gifts from subordinates and schoolmates given to him during the holidays.
Yang's lawyer said that his client's confessions could allow the court to consider reducing Yang's prison sentence.
At present, the 5.04 million yuan in dispute and the 250,000 yuan received as a bribe are being kept by the prosecution.
Guo Jie, a professor with Northwest University of Politics and Law, said considering Yang's attitude in court, he could be sentenced to 10 to 15 years in prison.
Yang's demise began on Aug 26, 2012.
As the director of the provincial work safety administration at the time, he was caught by a news photographer smiling at a serious traffic accident in which 36 people were killed and four were injured on a highway in Ansai, northern Shaanxi province. The photo was soon released on the Internet, sparking anger from netizens.
On Aug 30, 2012, the discipline and inspection committee of Shaanxi provincial Party committee announced that Yang was under investigation.
On Feb 22, 2013, Yang was removed from his office, expelled from the Party and detained for his alleged crimes.
Photographs later surfaced on the Internet of Yang wearing numerous luxury wristwatches in public, earning him the nickname "Brother Watch".
malie@chinadaily.com.cn

Editor's picks

Copyright 1995 - . All rights reserved. The content (including but not limited to text, photo, multimedia information, etc) published in this site belongs to China Daily Information Co (CDIC). Without written authorization from CDIC, such content shall not be republished or used in any form. Note: Browsers with 1024*768 or higher resolution are suggested for this site.
Registration Number: 130349