A 45-year-old man in the city of Changchun, Jilin province, who has loved airplanes since early childhood and even dreamed of making his own, has managed to fulfill that dream and at the same time honor his father who was a veteran pilot with 29 years of experience.
Yang Shijun, who has run a building material company for almost 10 years, held a successful trial flight of his small plane, the Jinhai No 1, on May 10. He named the plane after his father, Yang Jinhai, to honor the 79-year-old pilot who died in 2011, and printed the serial number "3695", his father's pilot license, on the tail.
The plane has an orange nose and tail and white wings and is 5-meters long, with a wing span of 9.5-meters. It has a maximum speed of 120 km per hour. Yang spent over a year building it at a cost of about 100,000 yuan ($16,000). The new plane now has a total of 2.5 hours of flight time.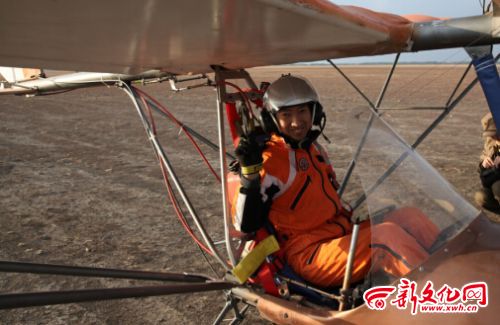 Yang Shijun in his flight suit for trail run of "Jinhai No 1", Jilin, Jilin province, on May 10. [Photo by Bai Shi/xwh.cn]
For the first test, Yang flew from his home in the Lvyuan district of Changchun, in the morning of Oct 2, 2014, about 70 km from the city center. He managed to get it 200 meters above the ground and says it was an "amazing" experience. But its speed was faster than he expected, so he ran out of fuel 10 minutes earlier than he had planned and the engine stopped but he managed to glide to a landing.
This mistake scared his friends but there was a silver lining in the dark cloud because he was able to test the glide capacity of his craft. After that test, he made some changes, for example, adding some instruments and reducing the turn radius. The second flight came on May 9, close to his birthday on May 11, and he flew it two successive days.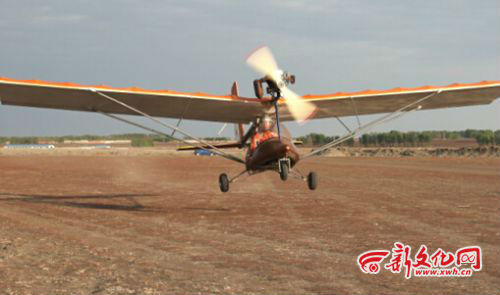 And it's a liftoff as the plane soars skyward, on May 10. [Photo by Bai Shi/xwh.cn]
There were many careful preparations for the trial flight. A year before the first, he used a flight simulator over and over to improve his flying skills. He also asked a professional instructor from Hebei to give him some training sessions. He had studied industrial and civil engineering in college and knew about structural mechanics, materials, and aerodynamics which helped a lot. He also took courses on paragliding and para-motor technology.
Jinhai No 1 was put on display at the Tianjin Folk Aircraft Carnival, in the city of Tianjin, on April 28, 2014, and was the only entry from Jilin province. He took it to the Anyang International Aviation Exhibition in Henan province, the only homemade plane from Jilin in May last year.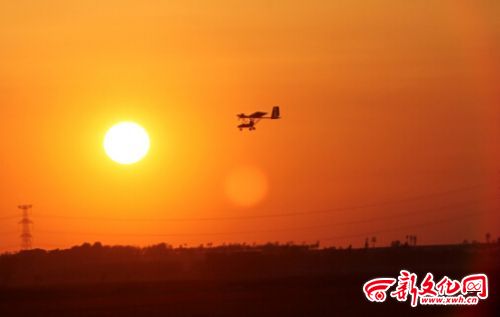 Yang skillfully navigating up in the sky above Jilin, on May 10. [Photo by Bai Shi/xwh.cn]
He has a second homemade aircraft that is a two-seater, cross-country model, developed out of a fuselage that a friend, also an aircraft lover, gave him as a gift. It requires more skill to pilot, but he's already planning a third, a biplane, and has bought al design from the United States.