It's probably common for parents worldwide to hope to see their children settled down, happily married, and raising a family, but some people don't like sitting around waiting and may take a direct approach.
For example, some mothers and fathers in the city of Changchun, capital of Jilin province, who attended a recent wedding fair, in the city's Children's Park, to help their unmarried children find a suitable partner.
But, even before going to the market, some took the matchmaking matter into their own hands and arranged meetings, dates and possible match-ups for their sons or daughters --- with or without their consent --- during the recent week-long Chinese New Year holiday, then kept on trying even after the kids continue with their daily work.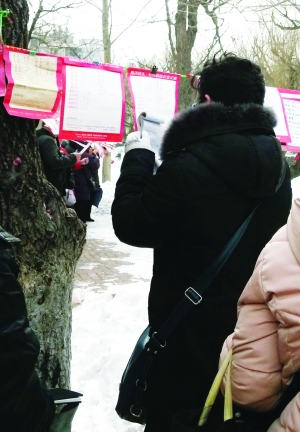 Parent taking notes while reading marriage advertisements and looking for a match for her child, in Changchun's Childern's Park, on Feb 28. [Photo by Li Ziqiang/Changchun Evening News]
This was the 10th year of the wedding fair, which takes place right after the holiday, and it came on a cold winter's day, but attracted a flock of parents eagerly studying the advertisements posted on the grounds in hopes of finding that ideal person, and as quickly as possible.
But that's not all.They got more proactive in their search, not just studying the announcements, but going right up to other parents looking for the same information, but not all of them were so lucky.
Mrs Zhang, for example, who did a thorough amount of research but came away empty-handed, remarking [remorsefully], "I can't find a decent son-in-law for my daughter at all, because they [the boys] either don't have a decent job or outstanding qualities."
Zhang's disappointment unfortunately reflects a harsh reality: the number of girls on offer exceeds the number of available boys, or, in the words of Wang Shufang, organizer of the fair, "The 19-27-year-old girls with a BA degree clearly outnumber the boys."
This incredible wedding mess combined with the elder generation's hopes for happiness for the younger generation isn't unique to China's northeast and can be seen in other big cities, such as Beijing, Shanghai, Hangzhou, to name just a few.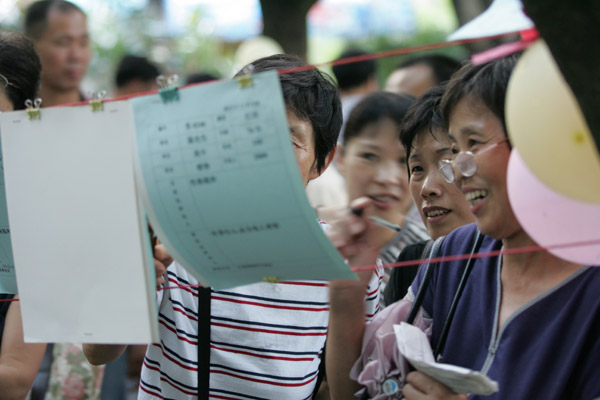 Parents studying wedding fair adverts in Shanghai's People's Park, in this May 31, 2014 file photo. [Photo by Yan Daming/Aisanewsphoto]
Still, why is it the case that so many Chinese parents are willing to go out looking for a match for grown-up offspring, even without their agreement?
One answer to that might be found in Confucianism, and a practice embedded in Chinese culture, that children and parents are intertwined, mutually reliant, with each one taking on the responsibility at a certain period of time, as the online US news service Global Post, explained, "Parents take on most of the responsibility until the child has found a husband or wife."
This strong parenting style has Chinese parents making their offspring's happiness their duty while children are expected to follow their authority out of filial piety.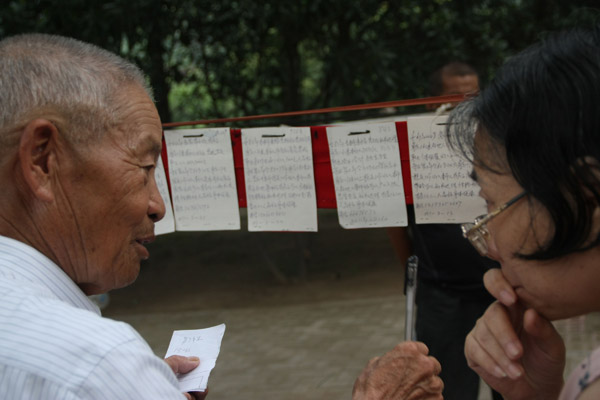 People discussing suitable partners for their children in Qingdao,in this July 2, 2011 file photo. [Photo by Huang Jiexian/ Aisanewsphoto]
Meanwhile, back in Changchun, the story isn't that simple and those busy parents are not getting a lot of support from their offspring who often give the business the cold shoulder.
For example, Mrs. Qian's daughter, who turned rebellious when she learned of her mom's taking part in the wedding market and hid all her photos and even deleted personal profiles in hee smart phone, in spite of her mother's concerns about her unmarried sweetheart.
"My daughter is tall and pretty, and has college qualifications and a stable job at a government-backed kindergarden," Mrs. Qian complained, "But she's still single."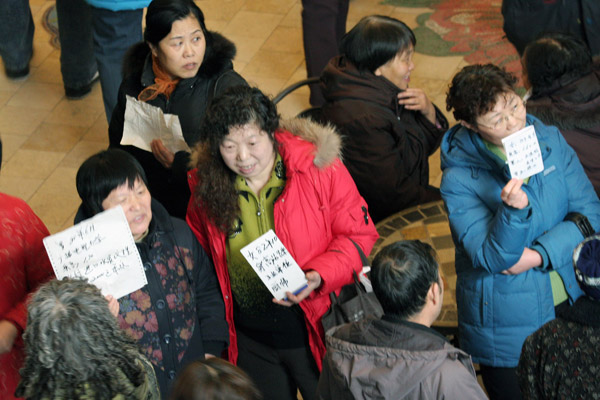 Parents holding advertisements and chatting with passers-by who are looking for a good match for their children, at a Shengyang wedding fair, in this March 6, 2010 file photo. [Photo by Zhao Jingdong/ Aisanewsphoto]
However, in complete contrast with their stressed-out parents, young singles often simply view their "leftover" status, a new term referring to people over 30 who are still not married, especially women, as something normal. That's because they'd prefer to remain single until that Miss or Mister Right comes along with the right chemistry.
One of these, a Ms. Liang, commented, "I don't care about a person's material background, I'm looking for a spark. When I meet the right person, I'll say 'yes' and that's the start of a relationship."
Unfortunately, that point of view doesn't go very far with her parents who are back at the market consumed with the idea of seeking the ideal son-in-law, and haven't a clue about what their daughter is talking about.
Experts explain that this contrasting behavior reflects a real clash of views in modern China as parents try to hold on to tradition and a suitable match, someone or a family of equal social ranking, while their children are often trying to build a relationship based on personal taste.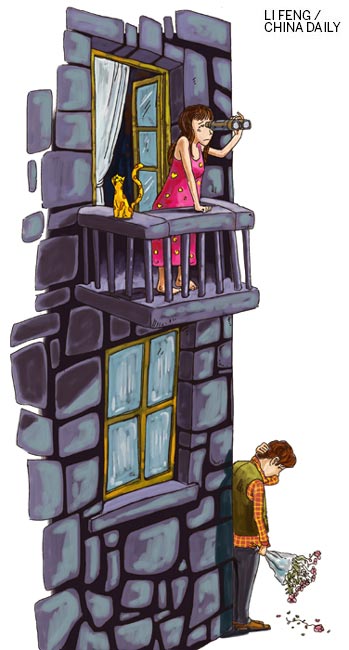 However, if young people do not get social recognition for their unmarried status, the traditional method, including match-making, may be the preferred one, and this obviously puts them in a difficult situation, says Liu Shuqin, a Guangzhou-based psychology counselor.
But, many of those parents in the Changchun park have stuck to their mission, with Mrs. Liu going to all the wedding fairs last year, still looking for a suitable partner for her son, and concluding, "We need new people to join in, the more, the better. I'll be really happy to work for my son until that big day comes."