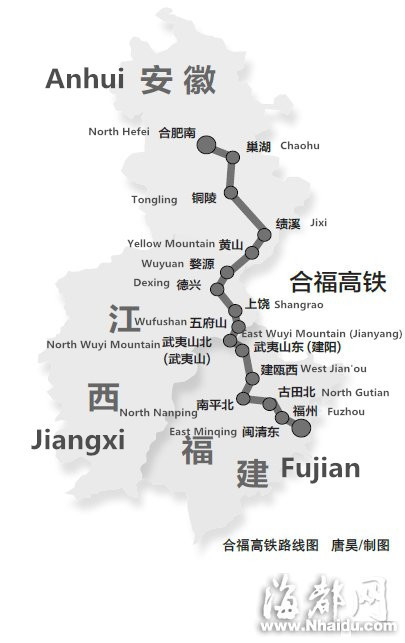 The route map of the Hefei-Fuzhou High-Speed Railway [Photo/nhaidu.com]
A high-speed railway between Hefei and Fuzhou, capital cities of Anhui and Fujian provinces, is scheduled to open on June 30, according to a report by the Straits News.
The 800-kilometer railway, with a designed speed of 350 km per hour, goes through Anhui, Jiangxi and Fujian provinces. It is the fourth double-tracked electric railway in the country after the Beijing-Tianjin, Wuhan-Guangzhou and Zhengzhou-Xi'an high-speed railways.
After the inauguration of the railway, it takes about an hour to travel from Fuzhou to Wuyi Mountain, three hours to Hefei and seven hours to Beijing.
Pilot operations will start from March 1, including a series of tests on the railroad tracks, overhead line systems, and communication and signal facilities. The pilot operation will also examine the overall performance of the railway when the train speed accelerates from 160 km/h to 330 km/h. The average speed will reach 300 km/h eventually.
Edited by Mevlut Katik