Chen Tuanzhi has suffered from the serious congenital genu recurvatum disease since she was born. But the 26-year-old girl from Xiamen, Fujian province, now has the ability to stand up, thanks to medical treatments received in Taiwan.
Chen was born in a peasant's family, and has lived a very hard life for the past 26 years. Her condition means that her knees bend forward, making both legs L-shaped. She was unable to walk and had to depend on the aid of her hands to move her body along the ground due to the deformation in her legs, which gave her the name "crawling girl" among locals.
"She not only suffers the inconvenience brought by her handicap, but also has to endure strange looks whenever she shows up in a public place," said Chen's mother.
"Our family could not afford the daunting medical bills. Before she was finally sent to Taiwan to get the treatment, her treatment has been refused by many hospitals for its rarity," she said, adding that the poor family was so desperate that they once almost gave up raising the girl.
Regardless of her physical handicaps, the girl shows a strong will in her daily life. She conquers lots of difficulties and finished her primary and middle school study by herself and is now completing her junior college major in social work and management.
However, Chen's life took a favorable turn when her story was reported by a local newspaper and caught widespread attention in 2013.
She was soon sent to Taiwan's Hualien Tzu Chi Hospital by the arrangements of the Xiamen Charity Federation and through the cross-Straits medical referral platform set up by Taiwan's Tzu Chi foundation.
Chen Yinghe, honorary President of the Taiwan's Hualien Tzu Chi Hospital, said that Chen's disease, which has been reported only twice in the world so far, posed a great medical challenge. "Technically, it cannot be predicted if the 160 degree of bone correction surgery would damage her other nerves and blood vessels," Chen Yinghe said.
"The girl's legs have never been normally used since she was born so there are lots of factors that are out of our control in the wound healing process," he said. He also added that to avoid any possible mistakes, the hospital has had to make lots of preparations in advance.
Starting from Mar 12, 2014, Chen received seven corrective surgeries before she could finally stand up, which has lengthened her initial standing height from 93 centimeters to 122 centimeters.
Chen is now able to walk with her legs, but still faces a long road of physical and mental rehabilitation before she can walk normally.
"It is really painful when I practice walking after the surgery, but I won't flinch at pain. I need to do more practice so that I can come back home as soon as possible," Chen said.
Her strong mind won great praise from medical personnel. Dharma Master Cheng Yen, founder of the Tzu Chi foundation, spoke highly of Chen, calling her an "exemplary patient".
According to the person in charge of the Taiwan's Hualien Tzu Chi Hospital, the surgery has narrowed the gap in appearance between Chen and wider society but the function of her limbs still needs a lot of training.
"We anticipate that her condition can be improved within one year of rehabilitation training. If everything goes well, Chen will receive leg extension surgery at a suitable time," said a hospital spokesperson. Chen's height is expected to increase if she receives more operations.
"I'm really grateful that the medical care personnel in Hualien Tzu Chi Hospital are so friendly and considerate to me. They regard me as their daughter. We are a big family who love each other," said Chen.
"The honorary President of the hospital is my model and has brought me boundless power, his geniality and kindness has always brought me the sense of security," she added.
Chen further added that the honorary president even put on the remedial shoes to set an example for her and gave detailed explanations about how to walk with a correct gait so as to avoid injuries after the surgery.
The girl, who is now wearing more smiles on the face, has determined to make her own contribution to the society.
Talking about her future plan, she said, "I will never stop learning and get the college certificate as soon as possible."
The cross-Straits medical referral platform was set up by Taiwan's Tzu Chi foundation. It aims to open a green channel for the Chinese mainland to know Taiwan medical services, including introduction of Taiwan's medical characteristics, assistance to deal with visa, the appointment of specialist clinic and arrangement of hospital surgery and family accommodation for patients on both sides.
Chen's case was not the first case the organization helps. In October 2013, the organization also helped a boy suffering from ankylosing spondylitis to get treatment in Taiwan.
Data has it that over the years, medical exchanges and cooperation across the Straits has been strengthened.
In 2014, the Xiamen Medical Association signed a cooperation framework agreement with Taiwan's Tzu Chi General Hospital and later organized several training programs concerning cross-Straits medical humanity exchange and cooperation.
By Lu Ting and Liu Xiaoyu from China Daily Fujian Bureau.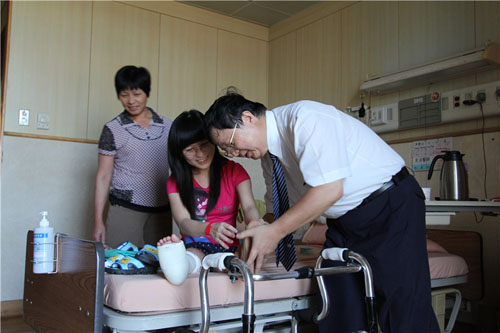 A doctor checks Chen's legs. [Photo provided to China Daily]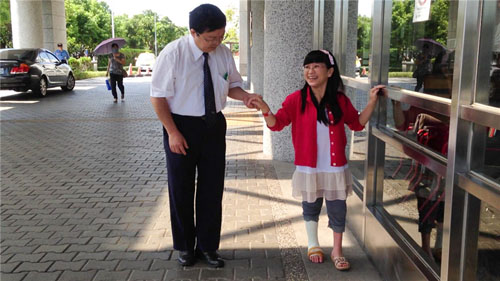 Chen Tuanzhi practices walking after the surgery. [Photo provided to China Daily]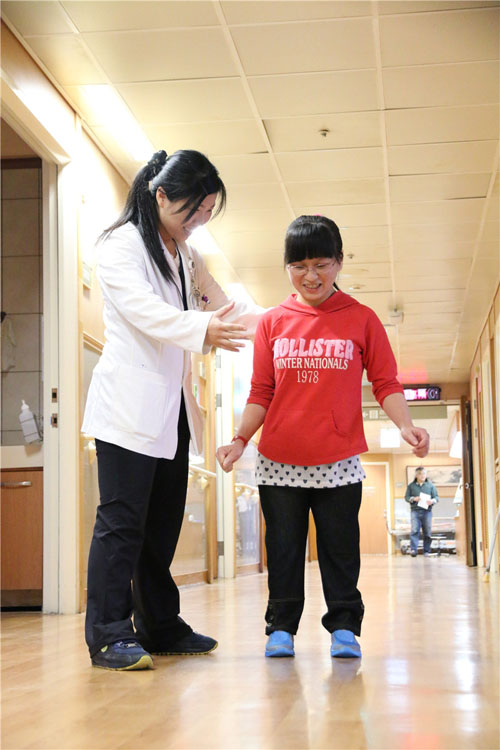 Chen finally stands up after the surgery. [Photo provided to China Daily]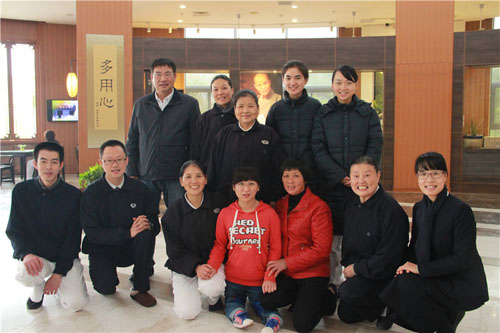 Chen Tuanzhi takes photos with the medical care personnel of Taiwan's Hualien Tzu Chi Hospital. [Photo provided to China Daily]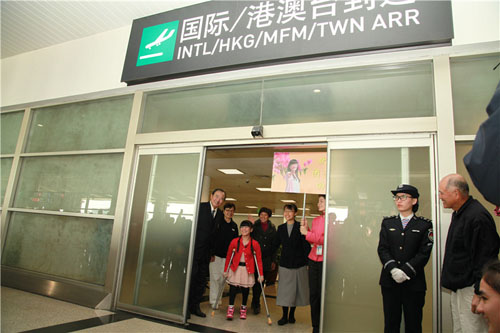 Chen returned Xiamen on January 22 after getting treatment in Taiwan's Hualien Tzu Chi Hospital. [Photo provided to China Daily]