Northeast China's Heilongjiang province recently released a report on the performance of its tourism in 2014 and forecast the trend for this year at a conference.
According to the report, the province saw growth in the number of domestic, inbound and outbound trips, and the top three most popular destinations for outbound tourists are Russia, South Korea and Taiwan.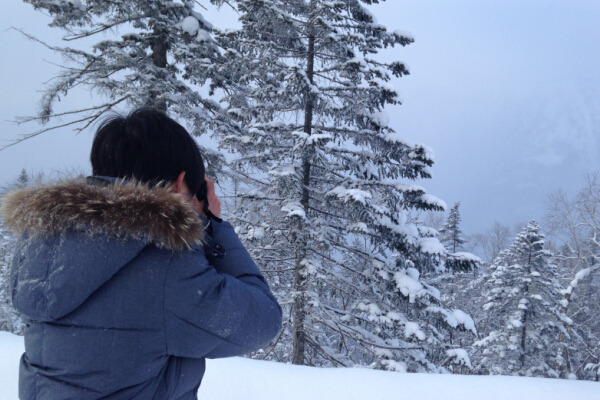 A visitor takes photo of snow-covered landscape in Yabuli, 210 km to the southeast of Harbin, capital city of Northeast China's Heilongjiang province on Jan 21, 2015. [Photo by Liao Wei/China Daily]
Shopping and health care: Main attractions for Russian tourists
The domestic, inbound and outbound tourism of Heilongjiang province increased in the first three quarters of last year. Russia is still the largest country of origin for Heilongjiang's inbound tourism.
Russian tourists mostly came to Heilongjiang for shopping, leisure, health care and medical services; and the capital city Harbin has become their first choice for shopping, while the Wudalianchi Scenic Area is the first choice for health care and Sufenhe city is one of their new choices for sightseeing.
At present, Harbin has opened a group of new air routes to Pyongyang (North Korea), Ekaterinburg (Russia), Irkutsk (Russia), Yangyang-gun(South Korea), Cheongju(South Korea) and Tokyo (Japan).
In addition to those scheduled flights, tourists in Harbin can also fly to Bangkok, Singapore, Kuala Lumpur, and Anchorage. People in Mudanjiang and Qiqihar can also take direct flights to South Korea.
Travel to Taiwan: a new favorite for tourists after traveling as individual tourists is allowed
The report also showed that with increasing income, the number of outbound tourists is soaring.
From January to August last year, the number of outbound tourists in Suifenhe city rose 6.3 percent to 189,183. South Korea was the second choice of outbound tourists in the province.
The number of outbound tourists traveling to South Korea via Harbin, Mudanjiang and Qiqihar is also increasing. The main purposes of travel are health care, shopping and beauty treatment.
Taiwan has become the new love of outbound tourists. Five travel agencies in Harbin which organize group tours to Taiwan, had offered services to 40,000 visitors and almost 800 individual visitors by Oct 17 last year.
Heilongjiang province boasts 387 A-level scenic areas
Last year, ten scenic areas in Heilongjiang province were approved as National AAAA-level scenic areas, including Jinhewan wetland botanical garden, and Yanjiagang International Hot Spring Resort.
Now, the province has 117 AAA-level scenic areas and 71 AAAA-level scenic areas in total.
High-end hotels
There are a total of 253 starred hotels in Heilongjiang province, including 5 five-star, 50 four-star and 126 three-star hotels. The number of budget brands and guesthouses are 3,069 and 439.