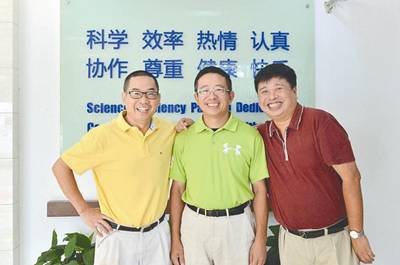 Chief executives of Generon Corp, at E-town, Beijing, on Nov 21. [Photo/E-Times]
The Generon Corp, a rising star in the bio-medicine industry, has come up with an innovative path to push clinical tests of its pharmaceuticals to overseas market, E-Times, the Beijing Economic Technological Development Area (E-town) weekly, reported Nov 21.
Many of its products tested in western countries meet European Medicines Agency and the US's Food and Drug Administration standards and break the western dominance in their field, with acknowledged patents. The company understands international research and development and says it wants to help its Chinese counterparts by sharing its experience.
The company was started in 2004 by three Chinese who got their PhD degrees in the US and who wanted to expand their business so they established a production center in E-town, after doing survey of China's science and technology parks, because of its preferential policies. Generon has grown fast and has been good at commercializing its findings.
The three founders have many years of clinical trial experience and international research. Huang Yuliang, the CEO, has 20 years of experience in bio-medical production management and plant construction and operations, while Yan Xiaoqiang, the chief science executive, has years of work in molecular research related to human diseases, and Tang Kaiyang, chief medical executive, specializes in international drug policies and laws, and clinical medicine licensing.
Edited by Fang Sha and Roger Bradshaw