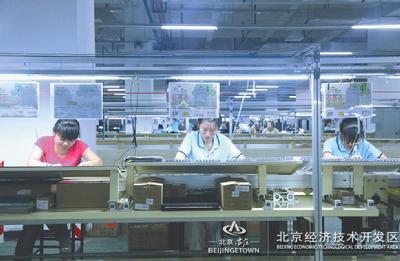 Production site in E-town, Beijing, on Nov 13. [Photo/bda.gov.cn]
Large industrial enterprises in the Beijing Economic Technological Development Area, or E-town, had an output value of 174 billion yuan ($28 billion) in the first nine months of the year, up 5.7 percent over the same period last year. Output this year has been growing since July and is estimated to keep going, according to town's News & Info Centre, on Oct 30.
The following are four of the enterprises that have seen large business increases:
SMIC shows good consecutive profits
The Semiconductor Manufacturing International Corp, a leader in integrated circuitry, had sales of 520 million yuan and profits of 47 million yuan in the third quarter, and they continue to grow. The company is increasing wafer production in its Beijing, Tianjin, Shenzhen, and Shanghai plants, which will all see better productivity by the end of this year.
Huaye Group signs big overseas contract
The China Huaye Group Co, a subsidiary of the China Metallurgical Group, a large state owned enterprise, got its biggest overseas project in recent years when it signed a $300-million contract with KOAM International, a South Korean construction company that builds clusters and recreational centers. The KOAM asked the Chinese to handle the construction of a community, in the city of Incheon, for overseas Koreans with US citizenship, including two super-high-rise business buildings, over 180 meters tall, with four floors below ground and 49 above, covering 290,000 square meters. Liu Yujun, Huaye's CEO, says that credibility is crucial for his company in this type of business, and has given it a great reputation in foreign engineering, with contracts, worth billions of yuan and a portfolio of outstanding examples over the years both in China and abroad, especially in metallurgy and mine construction.
TPV revenues triple
TPV Technology Ltd, a leading Chinese display provider, earned more than 3 billion yuan in the thid quarter of this year, or triple the amount for the same last year period. The company now has some ambitious plans for enlarging its research area, for smart sensing, digital TVs, cloud TV, and large outdoor screens.
CETC integrated circuitry goes overseas
When the China Electronics Technology (Group) Corp, a leader in China's electronics and information system integration, got orders from Russia for integrated circuitry packaging equipment, it stopped the foreign control of the Chinese market and opened more overseas markets. Before 2012, the field was completely controlled by US, Japanese and Singaporean companies. To meet the Russians' equipment needs alone, Chen Wen, a chief expert and member of the Global Expert Hiring Team, explains, he got his research team to explore the field for more than a year and got 200 million yuan in equipment earnings from the domestic market, and they are now on a global journey.