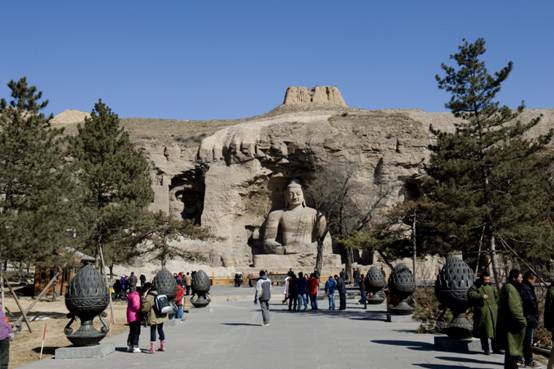 Buddhist sculpture at the Yungang Grottoes [Photo / dtnews.cn]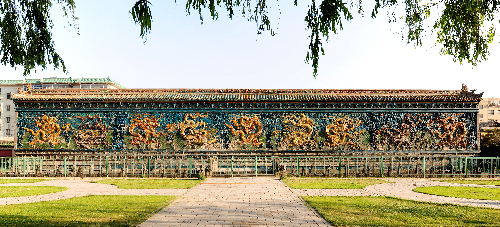 Nine Dragon Screen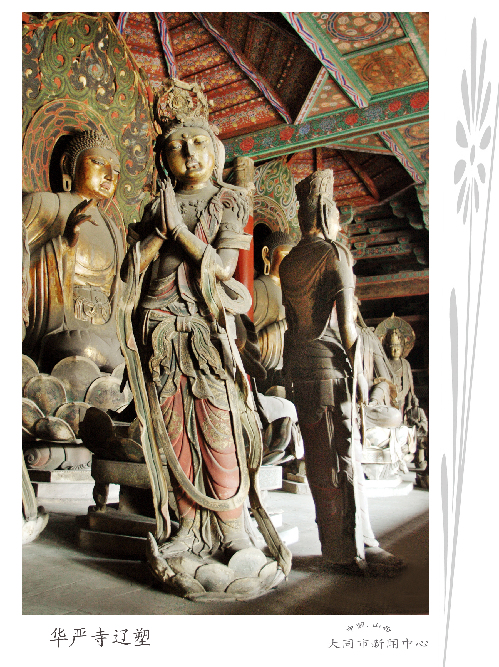 Painted sculptures from the Liao Dynasty, at Huayan Temple
Japan's NHK TV Station made a special 30-minute documentary on the city of Datong, a historical site in Shanxi province, with the help of Beijing TV, which got a lot of applause when first shown to Japanese audiences in February 2013.
The idea was to introduce this top tourist destination, especially the old city walls, folk life, the Hanging Temple at the foot of the Hengshan Mountain, the 1400 years of Buddhist, Taoist and Confucian history, the Nine Dragon glazed screen walls from the Qing Dynasty, Huayan Temple with its magnificent colored sculptures from the Liao Dynasty (AD 907-1125), the Yungang Grottoes of the Northern Wei Dynasty (AD368-534), China's first large grotto project, and the Tulin landscape formed by water erosion. The crew also managed to capture the traditional art of making 'baihua shao-mai', a type of steamed dumpling and famous snack of Fenglinge, a 500-year-old restaurant and honored brand of Datong.
Another 88-minute documentary, "The Beauty of Yungang Grottoes", showed the history, culture, and art of the area in detail and was first aired in December 2013 in Japan. It includes conversation in a studio between culture experts from both Japan and China, who analyze the site's historic value, cultural influences, and charming and provide a comprehensive record of the Yungang Grottoes in digital form.