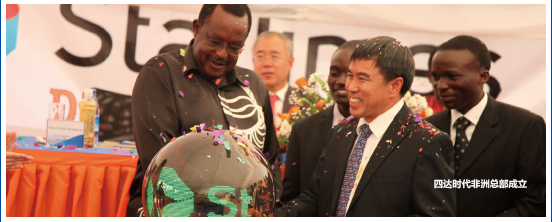 The launching ceremony of the StarTimes' African headquarter [Photo/Beijing Economic-Technological Development Area] 
There was a TV technology exhibition in the city of Abuja, capital of Nigeria, Africa on Oct 22, sponsored by StarTimes, a Chinese hi-tech radio and TV company that specializes in cultural exports.
StarTimes, located in the Beijing Technological Development Area and known as E-twon, has opened 12 channels overseas this year and has announced a cooperation project with Wazobia, Nigeria's largest broadcaster. It involves two new channels, Wazobia TV and Cool TV, as the broadcast company's first TV product. It will use a platform provided by StarTimes to bring programs to thousands of people and help them get in touch with Nigerian stars and famous TV presenters.
Three of 12 channels are run entirely by the StarTimes — an international sports channel, a Hausa language channel, and a Swahili language channel. The sports channel has already presented over 400 live sports events to African audiences this year. The Hausa channel provides 24-hour translated TV dramas from China to millions of Hausa viewers in West Africa, while the Swahili channel, for East African viewers, carries many TV programs on Chinese language, and Chinese food and culture
StarTimes also provides TV shows from Germany, Britain, France, and the US to local audience, covering educational programs, pop cartoons, and entertainment. StarTimes has 21 TV channels and over 300 live international channels operating via satellite. It says it expects to include more content on its platform next year to create a better digital life for African families and its global audience.