A golden Tao Te Ching and other brilliantly designed gold items attracted many visitors to stop for purchases or consultations at the third China Specialty Products Fair in the International Cultural Exhibition Center in the city of Sanmenxia, China's Henan province, on Nov 10.
"The pure golden book of the Tao Te Ching was forged for the fair to show the capacity of the local gold industry," an exhibitor told the reporter at the Lingbao exhibition area.
With gold reserves and production capacity ranking second in China, Sanmenxia has a long history of gold mining and processing, and has developed a complete industrial chain from mining and refining to downstream processing, exhibiting and marketing.
The city's gold identity attracted famous jewelry companies like Lukfook Jewelry, Batar Group, China National Gold Group and Lao Feng Xiang Co to display their latest jewelry products and seek business opportunities at the event.
With support from the China Gold Association, the 2014 China (Sanmenxia) Gold Jewelry Industry Development Forum was held on Nov 9 at the city's exhibition center during the fair (Nov 8 to 12).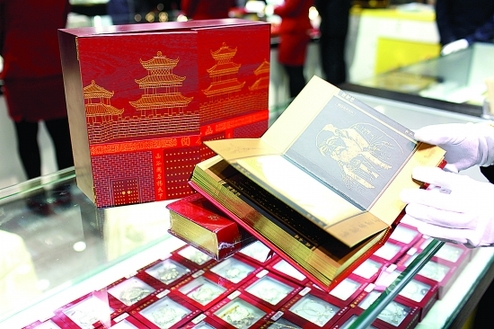 An exhibitor turns pages of the golden Tao Te Ching carefully at Lingbao gold exhibition area at the third China Specialty Products Fair in the International Cultural Exhibition Center in Sanmenxia, Central China's Henan province, on Nov 10, 2014. [Photo/smx.gov.cn]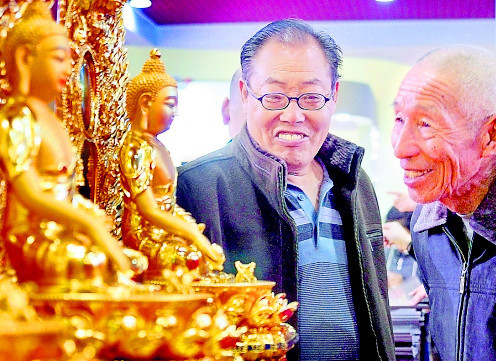 Visitors enjoy watching the gold Buddha at the gold exhibition area at the third China Specialty Products Fair in the International Cultural Exhibition Center in Sanmenxia, Central China's Henan province, on Nov 10, 2014.[Photo/smx.gov.cn]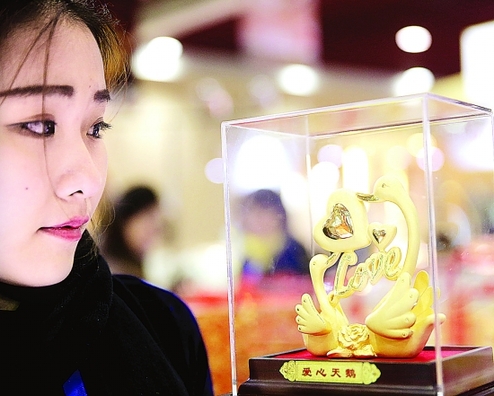 A visitor is attracted by the golden swans on exhibit at the third China Specialty Products Fair in the International Cultural Exhibition Center in Sanmenxia, Central China's Henan province, on Nov 10, 2014. [Photo/smx.gov.cn]