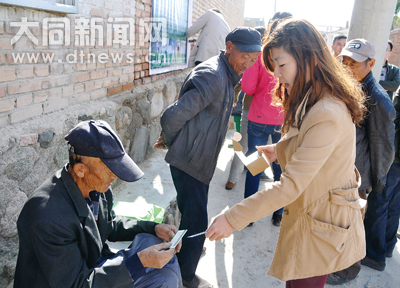 Volunteer handing out cards to protect migratory birds, on Oct 25. [Photo by Zhang Yanwei / dtnews.cn]
Some volunteers in the city of Datong, Shanxi province got involved in a move to increase awareness of the need to protect birds and of ways to take care of migratory birds, in 10 villages around the Sanggan River Marsh Reserve, on Oct 25.
In late autumn and early winter, there are large flocks of birds migrating south, that like to take a short rest here in the Marsh Reserve, so it also attracts some hunters who like to set bird traps in the area and profit from rare species. They often string up nets or use drugs, and even guns to get the wild fowl.
So, this awareness campaign has the volunteers putting up posters to describe the proper way to protect the fowl, as well as how to put a stop to bird poaching. They also pass out cards with a contact number to the villagers to make sure they are aware of any illegal activity as soon as possible.
The sincerity of the volunteers has touched the locals so much that some people gave hints about the hunters' approaches in the area. If these illegal actions are reported in time the person providing the information will get a reward.
Edited by Roger Bradshaw