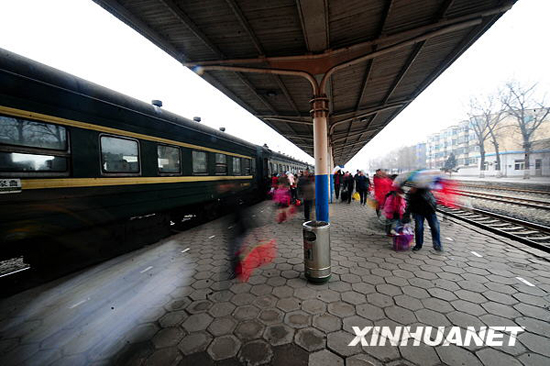 Passengers come back and forth at the Pingyao Railway Station, in Pingyao county, Shanxi province, Feb 9, 2010 [Photo by Fan Minda / xinhuanet]
The Shanxi provincial Railway Bureau says it is improving tourist service all along its railway lines to bring greater convenience to tourists travelling by train, especially those from outside the area, with one outstanding example being in Pingyao county, a popular tourist spot, which is getting its staff to provide more tailored services.
For example, as soon as passengers detrain at Pingyao station, there are staff members dressed in snappy railway uniforms with an armband that says "part-time guide", who are ready to serve by providing information and travel tips, showing how to get to the nearest tourist center, or checking hotel reservation, tourist site tickets, and getting a return ticket.
Some travelers have been so impressed that they described the help of the Pingyao staff members on popular social networks in China, to show their appreciation across the country. One of these travelers, a girl named Cheng, from Beijing, visited the county after the National Day holiday (Oct 1- 7) and forgot to bring her ID. So to ensure that Cheng's Pingyao visit wasn't a waste of time, Wang Dingqi, a part-time guide, helped her apply for a temporary ID card, get a hotel room, get a ticket to a popular play, and a return ticket. This service left such a good impression on Cheng that she returned the favor by sharing her experience with her friends.
These part-time guides manage to help tourists on an average of 300 times a day. The service started just before National Day holiday this year.