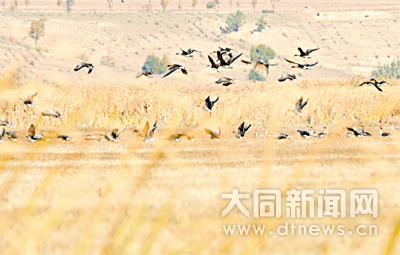 Migratory geese rest and have fun at Fengyu Marsh, in Datong, on Oct 16. [Photo by Zhang Zhanbing/dtnews.cn]
The environment in the city of Datong, Shanxi province has really seen a great change as it leaves behind its "dark" coal-driven past and becomes a green community.
Over the past decade, the footprints of the migratory birds have become a common sight in many marshes around the city and, sometimes people in the neighborhood can see large flocks of geese passing over. Such a sight could never have been imagined as recently as 10 years ago.
The city's efforts to improve the ecology have in fact won it national recognition, and many people in Beijing, now haunted by a serious smog problem, are preferring business trips to Datong, somewhat of a popular trend recently. For example, a Mr Yang, who works in Beijing and who commented that he and his colleagues are happy if they get a chance to go to Datong on business just "to breathe some fresh air there".
Related stories: