The Qingdao municipal government and property and entertainment conglomerate Wanda Group staged a global summit on film and television production in Qingdao, a coastal city in East China's Shandong province on Oct 8, 2014.
Zhang Xinqi, mayor of Qingdao, addresses the Global Summit for Oriental Movie Metropolis Movie & TV production in Qingdao, Oct 8. [Photo provided to China Daily]
The Qingdao Oriental Movie Metropolis, a mega-industrial park, into which Wanda Group invested, announced subsidies to echo the municipal government's preferential policies on film and TV production which were released recently.
The Group promised to invest in the Qingdao Film and TV Industry Development Fund, part of the local government's preferential policies, which also include financial subsidies for the film and television industries.
"We have a complete industrial chain, ranging from a base for film shooting and issuance to production and screening, so we are determined to ensure that China's film industry has more influence in the world market," said Wang Jianlin, chairman of Wanda Group, at the event.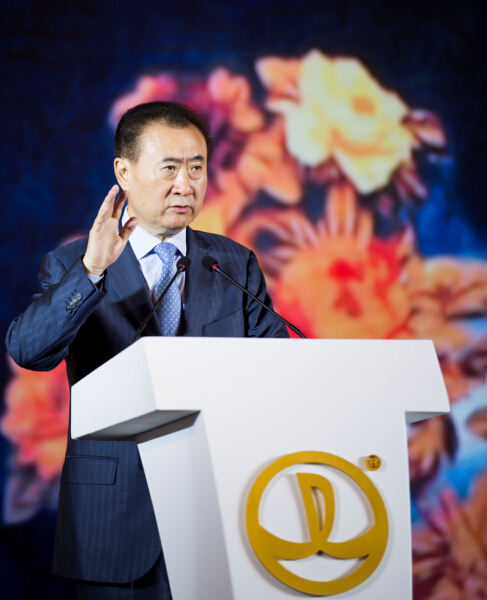 Wang Jianlin, chairman of Wanda Group, has high expectations for success of the Qingdao Oriental Movie Metropolis. [Photo provided to China Daily]
He said the joint efforts by his group and the local government would ensure the success of the Qingdao Oriental Movie Metropolis.
Meanwhile, high-quality film and TV programs mainly produced in the park will also receive financial subsidies. Huangdao District Government will provide financial subsidies to production companies registered in the park; such subsidies will be granted at up to 10 percent of the production company's annual revenue.
The city also encouraged banks and other financial institutions to launch loan products tailored to the needs of film and TV makers.
In addition, the government has launched a loan-related risk compensation mechanism for the industry, and facilitated IPO financing for film and TV program producers.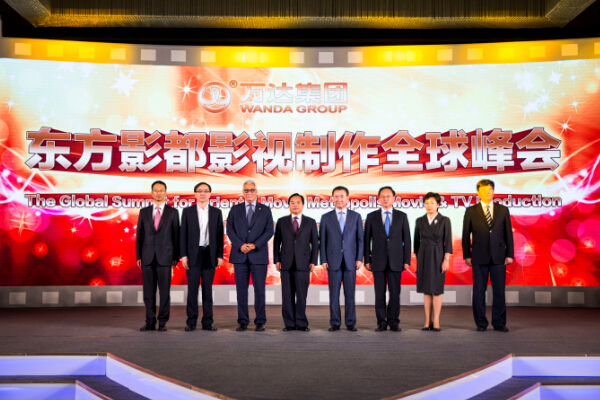 Guests pose for a group photo after the summit in Qingdao on Oct 8. [Photo provided to China Daily]
About 100 producers and film executives from all over the world attended the event, including David Glasser, COO of the acclaimed Weinstein Company LLC, and Wang Zhonglei, president of Huayi Brothers, China's equivalent of Warner Bros Entertainment Inc.