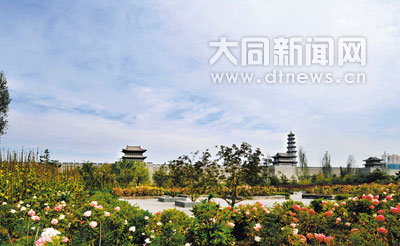 Green belt along South City Wall in Datong, Shanxi province, Sept 23 [Photo by Zhang Zhanbing / chinadaily.com.cn]
The city of Datong, Shanxi province, has decided to devote itself to green development with a scientific approach to landscaping and has spent 6 billion yuan ($980 million) on landscaping and environmental improvements over the past six years, increasing the green area by 20 million sq m, so that the total is now 40 million sq m, or 14 sq m per capita.
The city also got the "National Garden City" title, back in January, and the landscaping office has started seven more projects to improve the ecology. In the process, the city didn't just increase the amount of green, it also considered the artistic effect and economic benefits of the gardens, and hopes to achieve ecological, economic, and environmental balance.
The city has also gained quite a bit of experience through all this and has come up with scientific planting methods, improved the survival rate, and has long-term care for the green areas to keep them green. All of this has helped the efficiency of urban landscaping.