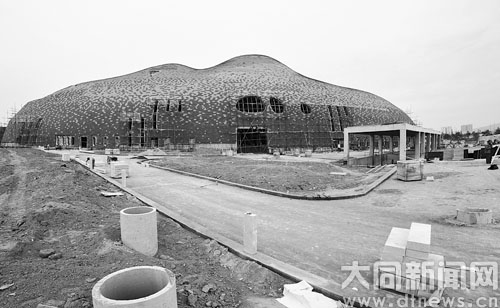 Work continuing on future Performing Arts Center, in Datong, on Sept 19. [Photo / dtnews.cn]
Work on a modern performing arts center with a unique shell roof that is expected to remind people of clouds floating in the sky and mountains, is underway in the city of Datong's Yudong New District, in Shanxi province.
The theater will sit on the west bank of Wenying Lake, adjacent to the city museum and library, on a site where work is also underway on a group of buildings designed by renowned architects, including a sports center, art gallery, and other landmarks that fit the district's culture and atmosphere.
The theater is made mainly of red, black and grey tile, to increase its magnificence, based on a design and outlook that got its inspiration from researching Yungang culture. It will have two halls of different size, one that can seat 1,500 people, the other, 800 people.
Visitors can already get a sense of the dreamlike quality of the hall, although the interior decoration work has not been completed, but it already looks like a mountain chain, as well as a grotto.
In addition to being a city landmark, the theater will also be expected to play host to many grand cultural events and a base for foreign exchanges, as well as a boost to the city's performing arts.