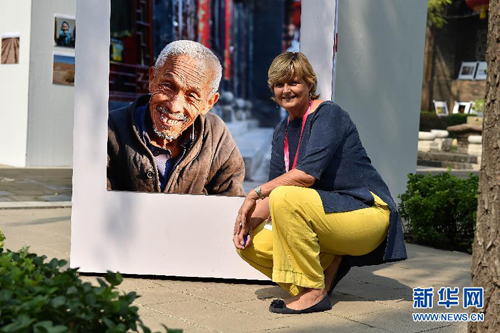 Bai Meixian with some of her work for international festival in Pingyao, on Sept 21. [Photo Zhan Yan/xinhuanet.com]
A French woman, who goes by the name Bai Meixian, has managed to tell her story in the county of Pingyao, Shanxi province, through photographs that she had on exhibit at the county's International Photography Festival at Pingyao, Sept 19 to 25.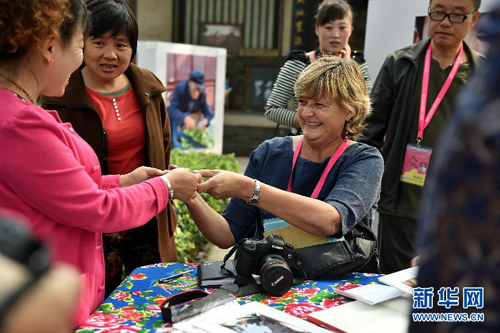 Bai giving a photo to a local as a gift, at the Photography Festival, on Sept 21 [Photo by Zhan Yan/xinhuanet.com]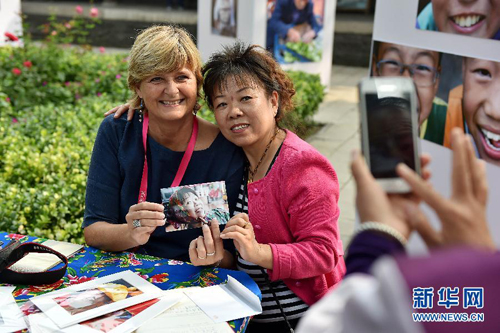 Bai taking a photo with a local, at Pingyao International Festival, on Sept 21. [Photo by Zhan Yan/xinhuanet.com]
Bai, has documented the lives of ordinary folks in the old city over past few years, such as old men doing their grocery shopping on the streets, a hairdresser in the local barbershop, and rickshaw drivers along the street dressed in classical clothing, with the focus always on the smiling faces.
Bai says that the number of people in the city is dropping as time passes because they think the quality of life elsewhere is better, but some people still insist on staying and she wanted to record their faces to prove that Pingyao is still a lively place, one that is full of vigor thanks to them. If they were to go away, Pingyao would be nothing but a commercial site.
For the festival, she offered more than 120 photographs with the hope that they could help her locate the individual people in the photographs so she could give them a picture as a present.
Bai first visited China in 1982, as an international student in Beijing. At first, she planned to stay for two years, but as her interest in China grew, she decided to settle in Beijing and set up a consulting company with her husband to help French enterprises find markets in China.
Later she had two sons and the family lived 18 years in China before she returned to France, where she enjoyed Chinese food at times. Back in France, she invites her French friends to make dumplings in her house.
She made her first visit to Pingyao in 2006 and was amazed by the photography festival. Then, in 2012, she decided to get involved herself and became a participant instead of just an onlooker. And, through her photography she's made many friends and maintains contact with them.
Last year, Pingyao became a sister city with Provence, France and the Pingyao county government published a brochure on Pingyao and asked Bai to translate it into French. Bai said she was delighted to do what she could to promote cultural communications between China and the western world.