A series of calligraphy and painting activities is being held in Hengshan Mountain, Datong, North China's Shanxi province, from Sept 11 to 15.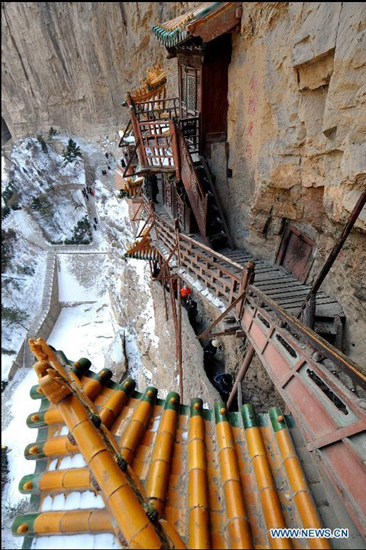 A photo of Hengshan Mountain, Datong, North China's Shanxi province taken on Nov 21, 2012 [Photo by Fan Minda/Xinhua]
The calligraphy and painting feast started at Tianfeng Ridge, the main scenic site of Hengshan Mountain. In the following days, more than 20 renowned artists from all over the country came here to make calligraphic and painting works, and write poems about the Five Famous Mountains (Hengshan Mountain is one of them, while the other four are Taishan Mountain of Shandong province, Huashan Mountain of Shaanxi province, Songshan Mountain of Henan province and Hengshan Mountain of Hunan province), and exchange their opinions about ancient Chinese culture.
The series of activities, lasting for a year, was launched in May this year, inviting many artists from around the country to hike in the Five Famous Mountains in turn, while preparing art works documenting the spectacular views of the resorts. So far more than 200 artists have participated in it, and Hengshan Mountain is the fourth station in the cultural event. After the event closes, outstanding art works will be selected to be exhibited in Beijing, and will then be published as a collection.
'The Five Famous Mountains' is the joint name for five historic mountains that were titled by ancient emperors in Chinese history. All these mountains were used as venues to offer sacrifices to heaven in ancient China.
Related reading:
Hanging Temple built upon crags of Hengshan Mountain in N China