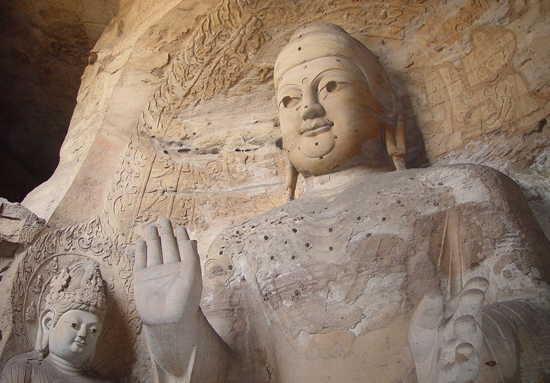 Yungang Grottoes in Datong, Shanxi province [Photo/dtnews.cn]
The institute of Yungang Grottoes, a recognized world heritage site, was invited to participate in the 3rd Symposium on Cultural Heritage Conservation and Digitization, from Sept 1 to 5. At the meeting, the institute gave a brief introduction of its preservation, archaeological research, tourism service, general management, and most important of all, digitization of the grottoes, winning high acclaim.
Staff from the institute in Datong, North China's Shanxi province, gave a detailed demonstration of their work in the exploration and practice of digital preservation of the heritage at the symposium, which was organized by the International Council on Monuments and Sites together with Tsinghua University. Digital surveying and mapping covering the whole grottoes site and its surrounding areas, including the castles and No 1, 2, 3, 4, 9, 10, 11, 12 and 13 caves has been completed, together with a group of academic papers. All the engineering drawings and old photographs over a hundred years have been digitized, forming a digital resource database of the heritage.
The digitized resources have already been applied to the design of a heritage preservation plan, cultural sites construction projects, archaeological research, and an official online page of Yungang Grottoes. In 2013, the grottoes established Yungang Digital Center, made a plan for digital development, and carried out research to set the standards of digitization of embossment above a certain height in cooperation with Zhejiang University, Beijing University of Civil Engineering and Architecture, Tianjin Institute of Surveying and Mapping, and Datong Institute of Surveying and Mapping, and also made a plan to construct its virtual tourism. The institute of Yungang Grottoes has become a leading research center in the area.
The experts from the International Council on Monuments and Sites, the State Administration of Cultural Heritage and other institutes in the area were present at the meeting.