Inner Mongolia abounds in wind energy resources and is close to power grid load centers for North, Northeast and Northwest China. The region has an edge in land environment protection, power grid construction and installed electric power capacity. It has been named a national wind power base.  
The local government proposed to build Inner Mongolia into a clean energy export facility for North China in its development strategy "8337." All parties are striving to realize the dream of establishing a wind power version of the Three Gorges in the region.
Local wind power longs to go out
Huitengliang prairie resembled a forest of windmills on May 22. It has abundant, steady and sustainable wind energy.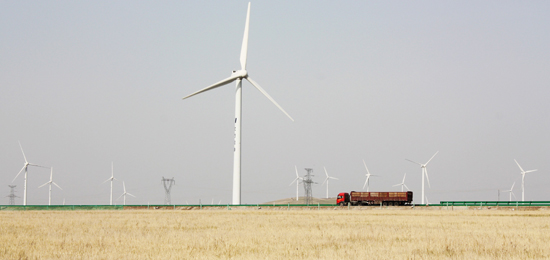 Huitengliang prairie resembled a forest of windmills.[Photo provided to China Daily]
"Many plants were established here because of the quality wind energy here," said Guo Wei, head of the Huitengliang Wind Farm with Shenhua Guohua (Xilin Gol) New Energy.
A siren from the control room broke in Guo's explanation. Guo went on to explain that the siren means electric quantity has gone beyond the limit and wind power production has to be controlled, which requires halting many windmills.
As head of a wind power plant, Guo wants to produce as much electric power as possible, but there's nothing he can do when being faced with the power restriction order.

"The wind speed has reached 12 meters per second at the moment, greatly increasing electric energy production, but so many plants generating power could crush the power grid," said Guo.
Data from the monthly power generation chart showed that Huitengliang Wind Farm lost 9 million kilowatt-hours in January and more than 10 million in April.
Faced with the dilemma, Guo hopes that there can be an ultrahigh pressure electric power delivery channel that can send Huitengliang's wind power across the nation.
Breakthroughs in grid connection technology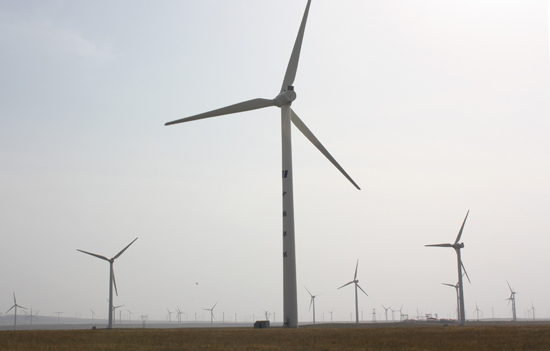 Inner Mongolia abounds in wind energy resources.[Photo provided to China Daily]
Inner Mongolia has the biggest grid connection scale in China, and west and east Inner Mongolia power grids have helped accumulate valuable experiences in wind power construction, operation, scheduling, management and technical renovation.
The power grid of West Inner Mongolia offered more than 20 percent of the wind power to the grid during April-May in 2012 and March-May in 2013, while ensuring stability in heat supply unit operation, grid security and heat supply for urban residents. However, experts used to predict that the intermittent and unstable wind power can't account for more than 10 percent of overall electric quantity. Otherwise, it would pose threats to grid safety and stability.
However, data and facts showed that the power grid of West Inner Mongolia has overcome technical problems. Inner Mongolia's grid generated 9.65 billion kilowatt-hours of wind power from January to May this year, a historical high. The region's wind power integration installed capacity has topped the country for years, according to data from the local energy development bureau. The region's wind power is expected to hit 58 million kilowatts by 2020.
Inner Mongolia's resolution in new energy development and its achievements have attracted many companies outside to come for investment. Xiangtan Electric Manufacturing Group Co signed a strategic cooperation agreement with the Tongliao government on blower manufacturing and new energy development at the fifth China Inner Mongolia International Coal and New Energy Industry Expo and International Wind Power Generation Industry Expo.