Food safety experts said China needs tougher measures in its laws to effectively supervise food makers and sellers.
In a program aired on Sunday, Dragon TV accused Shanghai Husi Food Co, a food-processing company owned by OSI Group, of violating China's Food Safety Law by using stale beef, chicken skin that had passed its sell-by date and defective hamburger to supply its clients.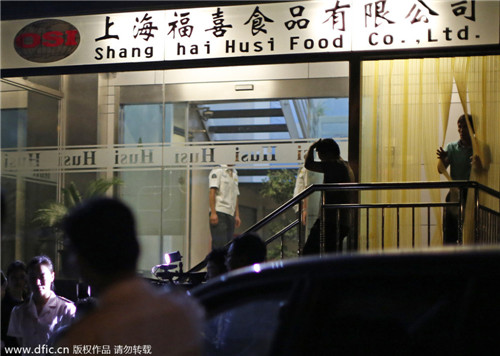 Chinese officers from the Shanghai Municipal Food and Drug Administration are seen in front of the office of Shanghai Husi Food Co., Ltd. in Shanghai, China, 20 July 2014.(photo by IC/Franklin X)
"The case reflects that there is not yet a sound system to eliminate companies that make unqualified food products," said Wang Xu, associate professor of the law school at Renmin University of China.
According to the revised draft of the Food Safety Law, which is under review by the National People's Congress and open for public comment until July 31, consumers who have suffered from food that was not made according to the safety standard can ask makers not only to compensate them for damage but also to pay 10 times what they paid for the food or three times the cost of the damage.