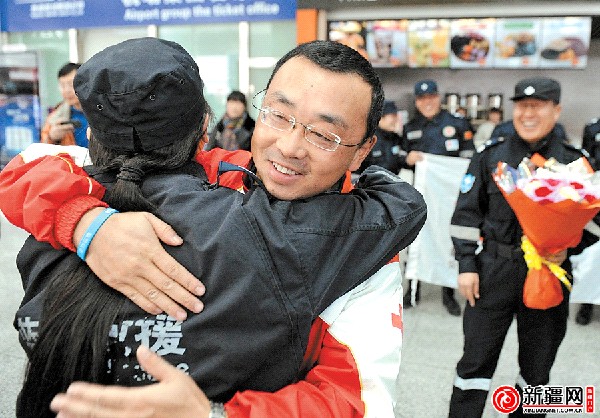 The Xinjiang Red Cross Blue Sky rescue team receives a warm welcome at Urumqi Diwobao Airport (Photo by Chen Xingyu/Xinjiangnet.com.cn)
After spending half a month in the Philippines, the Xinjiang Red Cross Blue Sky rescue team completed its mission and arrived in the city of Urumqi, capital of the Xinjiang Uygur autonomous region, on Dec 10, Xinjiangnet.com.cn reported.
The rescue team successfully found 53 bodies of typhoon victims and treated more than 1,800 patients.
The Red Cross Society of China sent relief teams to the typhoon-hit Philippines on Nov 20 in the wake of Haiyan. The Xinjiang Red Cross Blue Sky rescue team went to the worst-hit area of Tacloban.
Xiang Dong, leader of Blue Sky, commented that due to the shortage of assault boats and detection dogs, the team members had to walk 12 hours a day to search for victims.
Though they suffered from sunstroke, insect bites and eczema, they insisted on marking and sterilizing dead bodies carefully before handing them over to the local government.
The team also set up several medical centers in the city of Tacloban to provide medical care for people affected by Typhoon Haiyan. They visited surrounding villages regularly to treat the injured and provide communicable disease prevention knowledge.
"We received strong support and cooperation from local residents in the Philippines. They will continue to face hardships for a long time, and my thoughts and prayers are with them," said Xiang.
An Shaohua, founder of the Xinjiang Red Cross Blue Sky rescue team, said, "The international rescue shows the humanitarian spirit and the power of love."
Typhoon Haiyan, also known as Typhoon Yolanda, was an exceptionally powerful tropical cyclone that battered portions of Southeast Asia, particularly the Philippines, in early November 2013. It was the deadliest typhoon to hit the Philippines on record, killing at least 5,982 people.
Edited by Michael Thai